After a delay of more than two hours, new charter EZjet Air Services completed its inaugural flight and touched down at the Cheddi Jagan International Airport yesterday morning.
The flight, which originated from the John F Kennedy (JFK) Airport in New York, landed at 8:30am—a two and quarter hours delay—due to a snow storm and processing of final documents to facilitate the aircraft's landing at Timehri.
The flight marked the start of the charter's temporary service between JFK and Georgetown, which could be extended depending on the response.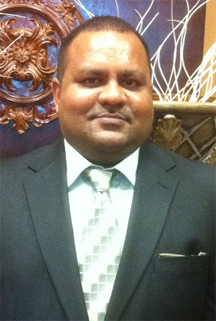 According to the airline's Director, Sonny Ramdeo, EZjet, a Guyanese-based company, was formed to facilitate non-stop flights to Guyana from New York.
He explained that the charter is just the beginning of a small operation that will eventually turn into something big as he hopes to bring back the national pride of Guyana. Guyanese are often misrepresented across the world, he said, while adding that the airline is something they could call their own.
Ramdeo noted that his main objectives are to bring excellent customer service and good baggage handling to passengers, to ensure they travel in comfort.
"I actually didn't expect that response… We had 216 passengers on board and we have 218 seats on the aircraft. That was a phenomenal response," he said.
With the continued support, EZjet is hoping to expand operations to Trinidad and Toronto, Canada. Ramdeo added that discussions are underway with flight operators Dynamic Airways, a subsidiary of Dynamic Aviation, to acquire a second aircraft to start operations in Trinidad and Toronto.
With expanded operations, he said he plans to create jobs for the Guyanese public in various fields, including cargo handling and checking, among others.
But he stressed that it would depend on the public supporting EZjet rather than using foreign carriers.
He further said that since the company will be operating as a charter, it had to deposit US$200,000 with the aviation authorities in Guyana and the United States so as to ensure they provide the quality of service expected and if something happens to their operation their passengers can get to their final destination.
After the passengers disembarked the aircraft at the Cheddi Jagan International Airport, they told Stabroek News that the flight was "excellent" and they experienced "excellent customer service."
One passenger, Rosana, said "the flight was excellent." She added, "What is even more beautiful is to see all these wonderful people here and to see four aircrafts sitting on our tarmac in Guyana. I never thought that I would live to see this beautiful day… flight was beautiful and of course I will be travelling again with EZjet this is our own… the pilot was great the takeoff and landing was smooth."
Assistant General Sales Manager Rayon Glen, meanwhile, said that providing that business is "bright," the company plans to expand its five-month contract to a possible two to three years, once the necessary permission from the government is granted.
Currently EZjet operates six days per week and with non-stop flights from New York to Guyana and vice versa with the exception of Wednesdays.
The flights are scheduled to leave JFK at 10:45pm and will arrive in Guyana at 5:15am and leave Guyana at 6:30am and arrive at JFK at 10:30am.
Around the Web