Representatives of non-governmental organization Merundoi will be attending next Tuesday's Prime Ministerial /Leadership Debate in Jamaica.
The NGO had organized a debate here before the November 28 general elections but restructured the format after PPP/C presidential candidate and eventual winner of the presidency Donald Ramotar withheld his participation.
In a statement yesterday, Director of Merundoi Margaret Lawrence said that the agency has taken up an invitation from The Jamaica Debates Commission (JDC) for three persons to witness the December 20 Prime Ministerial /Leadership Debate and to meet with the Commission and other teams from Tunisia, Trinidad & Tobago and Haiti.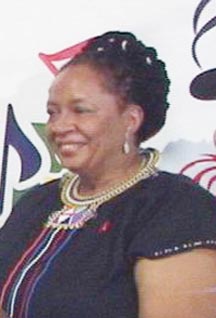 Those attending will be Lawrence, assistant coordinator Durwin Humphrey and moderator of the Merundoi "Presidential Forum 2011," Abraham Poole.
Merundoi recently staged the forum in collaboration with the Guyana Press Association, the Guyana Media Proprietors' Association, the Guyana Council of Organisations for Persons with Disabilities and the Independent Media Workers of Guyana. Technical Assistance was given by the University of Guyana Centre for Communication Studies and the JDC.
JDC was established in 2002 as a voluntary partnership between the Jamaica Chamber of Commerce (JCC) and the Media Association of Jamaica (MAJ) with the objective of staging political debates so as to provide a forum for the Jamaican electorate to make informed decisions.
The release said that they are also working towards the establishment of a regional network of debate-organizing bodies. One of their objectives is to share their experiences with and provide technical support to developing countries like Guyana.
The release said JDC is developing a web portal to serve as a platform for sharing information that might prove useful to the organizers of political debates such as " Facing the Electorate: A Manual for the Staging of General Election Debates (Policies and Procedures)" a comprehensive document outlining best practices in the planning, production and distribution of top-level political debates. They also provide technical assistance to interested debate organizers within CARICOM, by making representatives of the JDC available to debate organizers for consultation, the statement said.
Around the Web