A five-month long pilot project will be introduced in 32 secondary schools throughout the country to reverse sagging performances in Mathematics and English.
New Education Minister Priya Manickchand an-nounced the initiative at a meeting with head-teachers, heads of department and teachers at the National Centre for Education Resource Development (NCERD) on Thursday, saying that it is intended to increase pass rates by 20%.
To this end, Manickchand assured that the over 4,000 Fifth Form students, who will be sitting the 2012 CSEC exams and teachers, will be given all the resources they need to be able to succeed.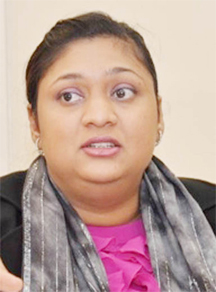 This year the achieved pass rate for English A was 60.8 percent as compared to 59.2 percent in 2010, while in Mathematics there was a decrease from 34.5 percent to 30.4 in 2010—a range that is in line with the pass rate in Trinidad, Jamaica and Barbados.
"The education sector has seen large investments, in fact the largest in terms of the resources that are plugged into the ministry, but we are not seeing the corresponding results proportionate to the investment made particularly in core subjects like Mathematics and English," Manickchand was quoted as saying by the Government Information Agency (GINA).
She added that failings in these subjects would mean that a lot of doors in education and in jobs would be closed to Guyanese children.
GINA noted that the Education Ministry has long recognised that student performances, particularly in Maths and English A, have been an area for concern and it has implemented several initiatives to improve performances.
These include the special training for Maths and English teachers via the Non-Graduate programme, workshops with subject specialists, strengthening the Maths programme at the Cyril Potter College of Education, and the institutionalisation of the remediation programme.
The Ministry, GINA noted, will be ensuring that the students participating in the pilot get all the required resources, which include for texts, study guides, past CSEC papers, among other things. In specific schools, assistance will also be given for English B (Literature).
Some of the schools identified to be in the pilot project include Abram Zuil and Aurora, in Region 2; Stewartville, Leonora, and Zeeburg, in Region 3; Annandale, Covent Garden, and Bladen Hall, in Region 4;  East Ruimveldt, North Georgetown, Brickdam, and Richard Ishmael, in Georgetown; Bush Lot, Bygeval, and Woodley Park primary-top, in Region 5; Tagore, New Amsterdam Multilateral, and Skeldon Line Path, in Region 6; Three Miles in Region 7; St. Ignatius, in Region 9; and Mackenzie High, Silver City, and Christianburg, in Region 10.
The selected schools were chosen on the basis that their results were good in 2010 and 2011, GINA said, while noting that Manickchand and a team of ministry officials are currently visiting the schools to emphasise the importance of students committing to working towards attaining success.
Meanwhile, Chief Education Officer Olato Sam recalled that over a year and a half ago 110 secondary head teachers had met at the same location, and a call was made for the development of a different approach in preparing students for CSEC, particularly in Maths and English. Sam, GINA said, pointed to changes implemented since then, including schools committing to a more robust remediation programme, and teachers giving more of their time to students who need additional support.
Around the Web