GT&T's 'Circus of Dreams' turned into a nightmare last evening as a downpour began just minutes into the opening act, leaving both performers and their audience with no place to shelter.
Although a traditional circus is often enclosed by a tent, that was not the case with GT&T's circus and when the initial shower hit a few minutes into the show, members of the audience scattered for cover.
When the rain came for the second time, they resorted to taking chairs and covering. Although the show did go on, many who paid their money did not get to see it.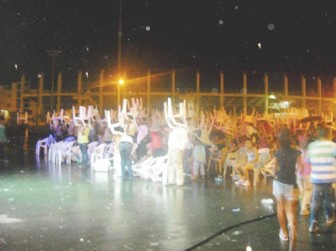 There was disappointment among those who left in the rain, including Kevin Singh, a father of two who said "$2000 is not lil bit money to pay… I does work hard fuh me money and I want it back."
As they were exiting, many patrons were heard demanding their money while others questioned if their tickets would be valid for the rest of the nights.
Although the show was scheduled for a 6pm start, it started just over two hours later and some members of the audience said such delays have become a norm for GT&T events, while citing the jingle competitions as examples.
GT&T CEO Yog Mahadeo, who welcomed the audience, noted that the cast of the circus compromises of persons from about seventeen to nineteen different countries.
Mahadeo also said that this year has been a phenomenal year for the company, which got a lot of things done and that it wanted to close the year in a wonderful way. He also invited the audience members to the upcoming GT&T events, including the grand finale of the Jingle and Song Competition's English segment, and the Magical Night of Christmas and Deal or no Deal.
Around the Web