The Guyana Elections Commission (GECOM) Chairman Dr Steve Surujbally and Chief Elections Officer Gocool Boodoo are contemplating legal action against opposition coalition APNU, which alleged that they were on the verge of declaring the PPP/C to have won the recent polls by a majority before being corrected by opposition-nominated commissioners.
A source close to the Commission divulged yesterday that Surujbally and Boodoo are contemplating legal proceedings against APNU, after reviewing a recording of Thursday's APNU press conference, where the allegations were made.
The GECOM officials are also going through the statement read by APNU spokespersons at the press conference.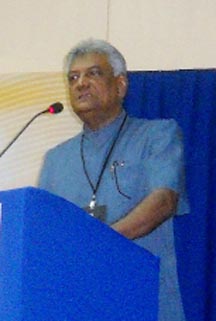 "APNU is adamant that the attitude and approach of [Dr. Surujbally and Mr. Boodoo] do not help and fuel the lack of confidence in, and the growing mistrust of the people for the Elections Commission. Clearly the Elections Commission under the present leadership has lost its legitimacy. APNU, therefore, calls on Dr. Surujbally and Mr. Boodoo to do the decent thing and resign," the coalition also said on Thursday.
APNU stated that the two GECOM officials' resignation is the first step towards a complete overhaul of the body. "APNU calls for the establishment of an independent and professional Elections Commission which is elected by two-thirds of the Parliament. There must be clearly set out criteria for membership to the Commission. Such a Commission will open new vistas for the proper conduct of elections that are credible and acceptable to the Guyanese electorate," it added.
Around the Web