The home of former army Chief of Staff Norman McLean and former Registrar of the High Court, Sita Ramlal was destroyed this morning after a fire of electrical origin started in the upper flat.
The Lot 2 Bel Air Village, seven-bedroom home went up in flames around 4am and according to neighbours, nothing was saved except the family's vehicles which were all driven safely out of the yard.
McLean told Stabroek News that the house was occupied by seven persons and at about 4 am the security guard alerted them of the fire.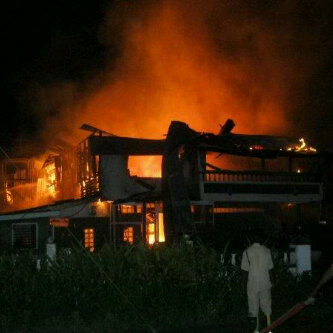 "We were aroused around 4 o' clock only to find that the whole place was starting to go and by time we open the door, it was bare heat and smoke," he recalled while seated on the deck of the pool which remained untouched.
He stated that he and his family safely exited the house through a staircase situated at the back.
McLean said that the family was unable to save any of their belongings. He said that the property was insured and belonged to Ramlal.
When asked if an estimate of losses could be given, McLean said valuable things such as his wife's law library, records and documents cannot be replaced. However, he stated that millions were lost.
"You gotta pick up the pieces and go on in life. I'm looking to see where we gonna stay," he further stated, adding that he owns a house in Forshaw Street, Queenstown, where his mother resides and is considering temporarily moving there.
When Stabroek News visited this afternoon, relatives had gathered and were quietly conversing among themselves. Ramlal was not at home.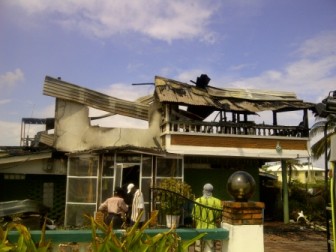 Around the Web