President Donald Ramotar says everyone affiliated with the tourism sector is sensing and grasping that tourism is going to be major in Guyana, and therefore  both the private sector and the government have started making preparations to meet the growing expected arrivals and demands.
President Ramotar  at the time was addressing the audience at the launching of 'The Call of the Wild',  the official tourist guide of Guyana, a press release from the Government Information Agency (GINA) said.
This latest edition of the Explore Guyana magazine was launched on Tuesday evening at the Grand Coastal Inn by President Ramotar and the Tourism and Hospitality Association of Guyana (THAG).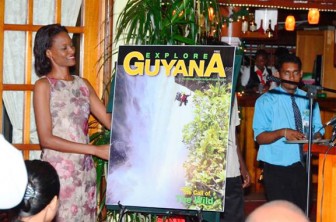 This edition marks the 10th year of publication by THAG, published by Adver-tising and Marketing Services (AMS).
'The Call of the Wild' showcases a number of tourist activities and destinations that one can be involved in throughout the length and breadth of Guyana.
And President Ramotar said that his presence at the launch of the latest edition was recognition of the importance of the tourism industry to Guyana.
"I firmly believe that Guyana's time has come… more and more people are recognizing Guyana as a destination to visit as we have a fantastic product… I am always amazed at the beauty and different kinds of beauty at every area of Guyana," President Ramotar is quoted as saying.
"Guyana was probably one of the greatest kept secrets from the rest of the world but now, more and more people are understanding what we have here, the treasures that we have here for tourists all over the developed world…," President Ramotar said.
Towards this end, the release said, government has continually invested huge sums of money for modernizing and improving infrastructure and roads. "Our hospitality has improved over the years in the private sector, as many of our small hotels in Guyana are now providing a higher quality of service from what was given 10-15 years ago, as people are grasping the importance of quality service and creating a reputation, brands and trademarks since these are very important for the tourist industry," Ramotar noted.
Meanwhile, THAG's President Paul Stephenson proposed that the contributions that the tourism sector has made over the years be considered so that the sector can be recognized as a major budgetary item.
Tourism marketing
Stephenson also called for tourism marketing specialists to be brought into the country to assist Guyana in building its technical capacity as it relates to the marketing of the sector, and for a professional educational institute for young people which will give them professional training in various sub-sectors of tourism.
Government is mandated to conduct generic destination marketing which sees the creation of an enabling environment and facilitates the sector at trade shows, hosting of familiarization trips and inviting travel writers.
Around the Web