By Frances Abraham and Lakhram Bhagirat
While many persons are excited about taking to the streets of Georgetown to get their last minute Christmas shopping done, elderly residents of the Uncle Eddie's Home and Archers Home are content with just ringing in the season and welcoming the new year.
Celebrations in both these homes have already begun with various services and parties organized by institutions which usually treat the residents at this time of the year.
"Most of it has finished already… some of them went out to parties, lunches and church services and have even received several presents already," Administrator of the Uncle Eddie's Home, Rita McEwan, told Stabroek News in a brief interview yesterday.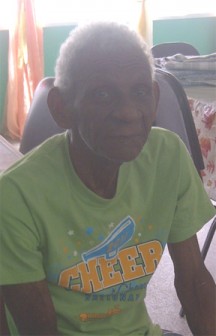 She noted that while it was not possible for everyone to attend these functions, all residents were treated to an annual party held at the home on Tuesday last. "The party was a bang. It was hosted by two nice ladies and once again, all the residents received gifts," McEwan said.
She indicated that friends of the home who have so far contributed in making the season a little bit merrier are the Rotary Club of Georgetown, Marian Academy Secondary School, the Church of the Transfiguration, Food for the Poor and the Lions Club.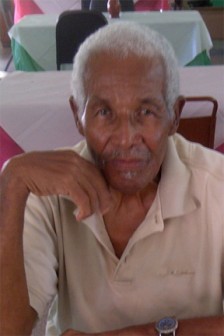 She noted that though the Uncle Eddie's Home is supported by a committee, the donations made by these groups always help in
bringing a smile to the faces of the residents.
Largest
Morris Seymour, who has been living at the home for almost six years, said the party was the largest he has ever witnessed and he enjoyed it very much.
When asked how Christmas Day is spent at the home, the elderly man said it is nothing exciting but satisfying. "You cook. You eat and you go back to bed. It is not like the old days when you really used to enjoy it," Seymour said.
Meanwhile, Resident Representative Lloyd Defreitas, 87, proudly stated that he was the oldest man at the home and is referred to as 'Mr. Dash'.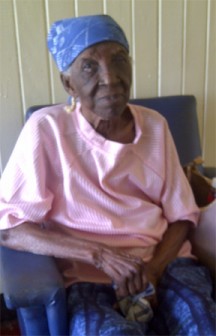 He described Christmas Day as wonderfully spent and pointed out that he has been living at the home for three years and it has been a tradition for him to attend church on that day.
"I go to the Central Assembly of God every Christmas and when I come back, I would have my meals and then rest," he said.
Like Defreitas, 86-year-old Arabella Goodman has been living at Uncle Eddie's home for three years but stated that she is not very excited about the quickly approaching holiday.
"When I could have gone outside and was young, I was excited about Christmas but not anymore," she said.
However, Goodman indicated that she did enjoy the party, stating, "It was nice, we had music and meals and so forth. I sit down and dance up, you know, shake, shake. It was fun".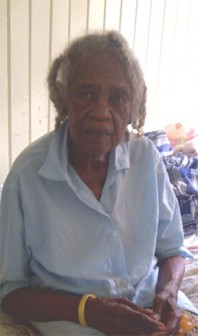 Sharing her experience was Elfreda Sampson, a 76-year-old who explained to Stabroek News that she suffered a nervous breakdown and has since not been able to walk much. She said though she went to the party, she could not fully enjoy it as she was restricted to her wheelchair.
"It was okay but I can't feel the same without standing and shaking up a little," Sampson said, adding that she will be spending Christmas Day in her bed.
Joyful
At the Archers Home, residents are being similarly treated, with most of the events completed, like at Uncle Eddie's.
Administrator of this home, Olive Williams, disclosed that they too have a committee which funds the home. She pointed out that the atmosphere of the abode this time around is usually happy and joyful.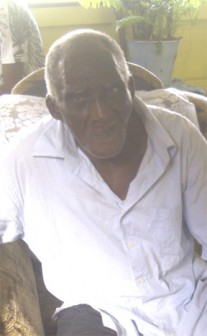 She said that persons and organizations usually bring 'goodies' and other donations to the home while others entertain the residents with Christmas carols.
Williams said that she hopes the New Year brings more donations for the 17 residents at the home and better health.
Fred Crawford, 82, said that he has been a resident of the home for almost two months and told Stabroek News that he has no special expectations for the holidays.
He noted that the season speaks for itself and reminds all of humanity and that Christ was born in a manger and all should follow the examples set out by Christ.
Crawford humorously said that all he wants for Christmas is "my two front teeth" and wished that the New Year brings continuous support and services.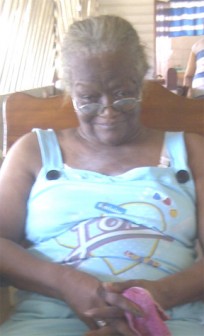 Eighty-year-old Carmen Junor Primo, a visually impaired woman, has been living in the home for 3-4 years and told this newspaper that she hopes the New Year brings all good things and if possible, return her sight, adding that with God, anything is possible.
Primo said that she is happy to live to see another Christmas and she always looks on the bright side of things. She noted that Christmas in the home is very pleasant and they are usually presented with gifts from various churches and organizations which sometimes entertain them with services.
Resident of nine years, Charles Jupiter Benn said that he plans to go to church in his hometown Plaisance for 8 am Christmas Mass and return to the home and have his "nice lunch" and rest for the day.
He said that he goes to church on a regular basis and is very happy to be alive. The 72-year old told Stabroek News that he hopes the New Year brings good things for him.
Around the Web