The Guyana Public Service Union (GPSU) says it sees recent statements on the geology and mines commission as a bid to bypass Karen Livan and it is calling on newly-appointed Minister of Natural Resources and Environment Robert Persaud to adhere to the requirements of transparency in filling the vacancy for a Commissioner.
In a statement yesterday the GPSU  also proposed that the Parliamentary Sub-Committee on Natural Resources be established with urgency to oversee the operations of the sector and to review all allocations of state resources of significance.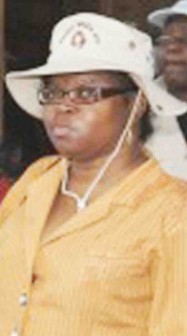 Meanwhile, the union observed that with respect to the vacancies that exist at the GGMC, and would exist in the future, persons were trained and groomed as successors.
However, according to the GPSU, "it is rumoured that the minister favours the appointment of an individual who previously served at a junior level within the Commission and left that employment over a decade ago. This rumour was not negated or corrected by the minister, but if true, would bring the converse effect to the Commission, which would be to foist a man with 20th century knowledge on a 21st century institution."
The GPSU charged that the "actions of the minister disclose an intention to avoid appointing Ms Karen Livan, who has given yeoman service to the Commission for over 30 years in favour of his preferred candidate."
"It is noteworthy that the Commission advertised the position of Commissioner in August 2011, but to date interviews of shortlisted candidates have not occurred. It goes to say that any planned appointment does not satisfy the requirements for transparency and would not augur well for the institution," the union warned.
According to the GPSU, the planned appointment of a new commissioner of the GGMC and other staff seems to be contrary to the administrative rules of GGMC as there was no mention of the succession planning and other administrative considerations that GGMC would have initiated. Rather, the minister's "statements give the view of ad hoc impositions on the institution, without proper … consultation with its Board and Management."
The union also contended that constitutionally the best forum at which the control and allocation of the state's natural resources should be handled is the highest forum of the land, Parliament.
"Hence, such control must not be at the discretion of the minister or Cabinet, especially in the present context of a minority government.  It is therefore recommended that with urgency a Parliamentary Sub-Committee on Natural Resources be established to oversee this sector, its operations and to examine and review all allocations of state resources of significance," the GPSU concluded.
At the forum where he read the statement, GPSU President Patrick Yarde said "While preparing this press statement I wondered if it is a coincidence or a deliberate act which results in some women encountering such obstruction to be elevated to senior positions. Reflecting on these experiences Juliet Holder Allen – Former Chief Magistrate, Ingrid Griffith – Acting Controller of Customs, Genevieve Whyte-Nedd – Acting Chief Education Officer, and now Mrs. Karen Livan it dawned on me that all these women are of black ancestry.  At this stage I further say not."
Around the Web