A pork knocker was early yesterday morning stabbed to death at Blue Mountain, Mazaruni River, in Region Seven, during a drunken row—the second such incident in the interior in the past week.
Confirmed dead is Jermaine McKenzie called "Royo," 25, of Lot 283 Grove Squatting, East Bank Demerara. His assailant is on the run.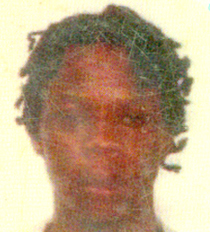 McKenzie's body was taken to the Bartica Hospital morgue by a police team that travelled to the area. It will be transported to the city sometime today.
Police said in a press release yesterday that the murder occurred at about 2 am.
McKenzie, according to police, was among a group of persons drinking when an argument broke out, during which he was fatally stabbed by another man. The suspect fled the scene and has not yet been arrested.
When Stabroek News visited the man's house yesterday, his mother, Collette Adams, was in shock.
The woman said that after being gone for more than a year, Mckenzie was expected home in time for Christmas.
Adams noted that early yesterday morning a relative of a woman her son once worked with turned up at her home and delivered the tragic news. "All she seh is that he get juk up in de bush," she recalled, while adding that the woman called her later with the same news.
She said no details were provided on the circumstances of the incident and she was hoping to get information from the police.
Adams noted that she was looking forward to seeing her son, the elder of her two sons, to "help her out." She is finding it hard to look after her sick husband Rickford, whose leg was amputated, while maintaining their home, which is falling apart.
They once worked with GuySuCo but Adams said "they pay we off and send we home." She added that she tries to make money by selling icicles and black pudding, but it is not enough.
She was hoping to get help from her son when he arrived. He had been working in the gold fields for about four years and hardly came home as he spent long stints in the interior.
"Right now meh gotta find money to bury him and I ain't got," a worried Adams told Stabroek News.
She recalled that sometime back McKenzie was chopped and was admitted to the Bartica Hospital for a few days but he later returned to the interior.
Last Wednesday, a miner was killed at Issano during a drunken row. Public-spirited citizens later handed over the suspect to the police and he has since been charged with murder.
Around the Web