Sandspring Resources Limited and its Guyana operating subsidiary ETK hosted a medical intervention and education programme this year where 1500 persons in Region One were assessed and treated.
ETK is a mining company based in Toroparu, Region Seven, a press release said. Sandspring Resources funded the medical mission including the cost of medications and supplies the team brought nto its Toroparu base and most of the extra internal flights in Guyana, lead physician Dr Michael Silverman said. The work done by the team was voluntary.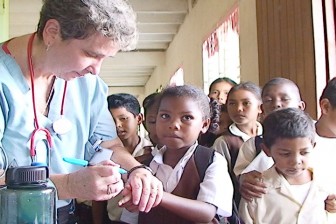 Dr Silverman is an infectious disease specialist attached to the Mount Sinai Hospital of Canada who has been doing outreach work in Guyana for 17 years. He headed the team that conducted the clinics in Region One in November which resulted in over 1500 patients being treated by a team of volunteers from the Canadian Outreach for Medical Education and Treatment (COMET).
According to the release, patients also benefited from dental care supplies and vitamins and health lectures. Several life threatening and emergency situations were treated, important research was done and the staff were able to work side-by-side with local health care staff which allowed for important opportunities for training and sharing of expertise, Dr Silverman said. He and Dr Sherryn Roth, a cardiologist who has been coming to Guyana for four years were the lead physicians of the delegation.
The exercise started in Mabaruma, which also served as the team's home base for the first week. The clinics were opened to the entire community as well as to patients who had travelled from nearby villages for treatment. They were registered and triaged by nursing staff who conducted blood pressure, temperature and blood sugar tests. Haemoglobin tests, urinanalysis, pregnancy and malaria, HIV and Hepatitis B and syphilis tests were also done as well as tests for STIs for high-risk patients including miners at Drum Hill. Over 125 patients were treated per day. The tests were donated by Alere diagnostics which helped the team to reassure, counsel and treat 100 patients, the release said.
Patients with heart problems were also tested with electrocardiograms and echocardiograms. An ultra sound machine was available and was used in pregnancy tests and in detecting liver infections in a few patients who required urgent medical treatment. Several procedures were also performed including the suturing of numerous severe and life threatening lacerations, the splinting of fractures and drainage of abscesses and a number of dental extractions at Red Hill. "In White Water, a wonderful service was performed for a beautiful teenage girl with severe deformities on her outer ears by repairing the deformities," Dr Silverman said.
The COMET team also found several common complaints such as back pain, abdominal pain, fevers, rashes and diseases such as diabetes and hypertension. "More dramatic problems included the diagnosis and treatment of a very ill child with cerebral malaria, a child with severe tuberculosis and two men with liver cysts," the release said. Volunteers also hosted a clinic at Wauna in a section of a primary school.
The release said they were also able to visit Shell Beach and Hosororo Falls, organised by Leya Aronson, an experienced paediatric nurse who has worked in Guyana for more than 10 years. Other returning experts included Bessie Ortuoste, an echocardiography technologist, Janet Roth, an ER nurse with extensive experience in both education and outreach to the developing world and Donna Parker, a lab technologist who "devoted particularly long hours to the job." The team also
benefited from the skills of Paediatrician St Steven Moss, doctors Howard Duke and Michelle Albert, family physician Dr Alex Seluzhytsky and June-Ann Sealey, an ICU nurse who was born in Guyana.
The team was accompanied and assisted on its mission by members of the Lions club of Guyana: Dr Sarah Gordon, Skip Lloyd Garraway, Gloria Cort, Mena Carto, Pat Gray and Yvonne Hercules. Lion Shabir Hussein was critically important in organising the entire mission, the release said, adding that the team was also fortunate to have the donation of transportation around Region One from the Adventists' Wings of Humanity Programme.
Around the Web