Late Alliance For Change (AFC) Vice-Chairperson Sheila Holder was yesterday remembered by relatives, friends and colleagues as a selfless woman who worked tirelessly as a consumer advocate and politician to ensure better lives for Guyanese.
While Holder's political colleagues remembered her as a forthright politician who advocated the cause of the ordinary citizen, her sister, Lynsyd Holder, in an emotional tribute, described her as a family-oriented person who was her role-model. Sheila, she said, throughout her life always was deeply committed to her family. She added that her eldest sister was someone who loved Guyana and who wanted to see change take place that would benefit not just a few but all the citizens.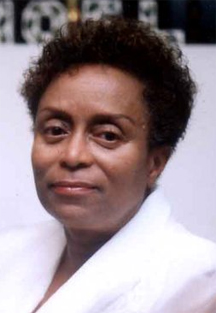 A memorial service was held at St George's Cathedral yesterday for Holder, 65, who passed away on November 20 in the United States, where she had gone for medical treatment. Her illness had forced her to withdraw from running in the general elections as the AFC's prime ministerial candidate. She was buried in the US.
AFC Leader Raphael Trotman described Holder as a "phenomenal woman," who was an outstanding female politician. "The history of political struggle in post-independence Guyana is replete with examples of outstanding women whose courage, tenacity and individuality have made an indelible mark on politics in particular and on our society in general.  Sheila Holder is one such…whose name must be added to the pantheon of the greats," Trotman remarked.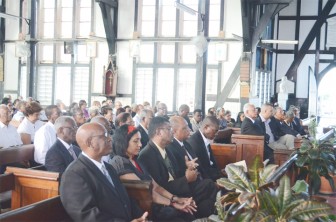 "Strength," Trotman said, is the word that best describes Holder, whom he called the glue that held the AFC together.  Holder was one of the founding members of the AFC, Trotman noted, adding that it was a decision she made after much thought and consideration.
"In Sheila's death, I have missed probably my greatest friend," AFC's Chairman Khemraj Ramjattan said, adding that Holder demonstrated loyalty, affection, dedication and other characteristics that exemplified true friendship.
He noted that she was adamant that the AFC remain true to its principles and was very forthright even when some potential financiers were urging the party to be part of opposition coalition A Partnership for National Unity (APNU). Ramjattan stated that it was probably because of Holder's work in Region 8 that the AFC was able to win that region at the November 28 general elections.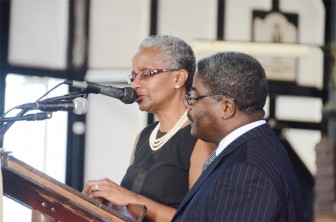 While praising her work as a parliamentarian, Ramjattan said that Holder, through the motions and the questions she sought to have answered in the House, was one of the most astute female MPs. Her work, he said, is not complete and he added that the party must stay the course.
A representative from the Caribbean Consumers Council also lauded Holder for her contribution to that body, especially her inspirational qualities as she struggled for equality.
Meanwhile, a special fund was established to honour Holder's legacy. The Sheila Holder Community Service Fund, it was disclosed, will partner with  "a non-partisan, not-for-profit organization in Guyana legally constituted under a Board of Trustees to make an award annually to a project that addresses a specific injustice" in the country.  The project is supposed to be committed to community care and public service and should exemplify resourcefulness, courage, dignity and determination—qualities that speakers said Holder exemplified. The fund is likely to be resourced with proceeds from annual national and international fundraising events to be organized by the trustees in collaboration with her sisters.
Sheila married Noel Holder in 1969 and they had three children, Yale, Sheldon and Kaila. Her political career started in 1997, when she contested the national elections as the vice-presidential candidate to Dr Rupert Roopnaraine in an alliance of Labour, Citizens and the Working People's Alliance (WPA).
After the 2001 elections, she represented the citizen's arm of the alliance as a parliamentarian on the GAP/WPA slate. She subsequently joined with Ramjattan and Trotman in 2005 to form the AFC.
Around the Web