At the No 51 Magistrate's Court yesterday, cocaine accused, Salim Bacchus, one of four persons arrested in a major cocaine bust was further remanded to prison despite strenuous submissions from his lawyer.
Officers from the Customs Anti-Narcotic Unit (CANU) had arrested Bacchus and the other men: Canada-based Guyanese Narayan Jarbandhan, 40; Gary Belgrave, 52, and Leo Hernandez, 44, on November 3 at Line Path, Skeldon, Corentyne, Berbice.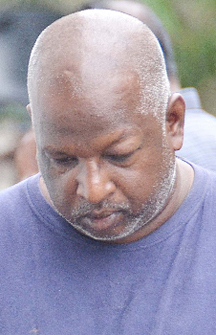 It is alleged that they had in their possession, 41.856 kilogrammes (approximately 82 pounds) of cocaine for the purpose of trafficking. Magistrate Krishndat Persaud ordered Bacchus to return to court on January 12.
The other men were released on their own recognisance on Monday at the Springlands Court after attorney-at-law, Ramesh Rajkumar observed that their names were not on the charge.
The lawyer had argued that his clients were never charged but were in fact locked up wrongfully.
Reports are that the men's names were on the case jacket but had mysteriously disappeared from the charge.
Bacchus was charged separately but his name somehow appeared on the inside of that jacket. It was also found that the "signatures" of two magistrates appeared on the charge.
The accused had appeared before Magistrate Geeta Chandan-Edmond at the Georgetown Magistrates' Court 10, on November 4.
They had pleaded not guilty to the offence, after which they complained of being brutalised while in custody of CANU officers. They had shown the magistrate cuts and bruises about their bodies.
Yesterday, Rajkumar who filled in for his colleague, Glenn Hanoman renewed an application for bail for Bacchus "because of the circumstances that occurred on Monday."
He argued too that because the prosecution now wants the submissions in writing with regards to the double signature, the trial would not be held in reasonable time.
Rajkumar also told the court that a joint trial had been going on with Bacchus, Jarbandhan, Belgrave and Hernandez and wanted to know if the trial would now be "unjoined."
He lamented too that his client should be granted bail because he had already spent one and a half months in prison.
This prompted the magistrate to respond that for such a serious charge "that time is nothing" and that it was "part of the process of the trial to keep him."
The lawyer also told the magistrate that Bacchus appeared before him in another matter and had always attended his trial but the magistrate disagreed.
Prosecuting on behalf of the state, attorney-at-law, Dionne Mc Cammon objected to bail on the grounds that Bacchus may not return to court.
She argued too that compelling evidence has been led that the cocaine, amounting to almost 42 kg was found on a boat which Bacchus stated belonged to him.
Mc Cammon also submitted that Bacchus has another matter of a serious nature – possession of firearm – pending against him
Around the Web