(Jamaica Gleaner) – Jamaica's foreign affairs ministry is sending a team of officials to Barbados to discuss Shanique Myrie's allegations of abuse at an airport there.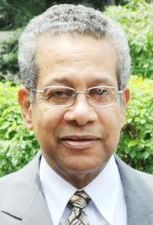 Shanique Myrie reported, earlier this month, she was subjected to two demeaning cavity searches by a female immigration officer in Barbados and was detained for hours for interrogation.
She also said the immigration officer made several derogatory remarks about Jamaicans.
The ministry revealed it tried to address her case through diplomatic channels but has not received a response to a diplomatic note which was faxed just over a week after she filed her complaint on March 14.
However, the ministry noted that Dr Ken Baugh, Minister of Foreign Affairs, received an email from his Barbadian colleague outlining a press release from the Barbados Government Information Ser-vice on March 26.
The release refuted Myrie's claim of abuse.
The delegation will include Jamaica's High Com-missioner in Trinidad and Tobago, Sharon Saunders, and officials from the Passport Immigration and Citizenship Agency.
Around the Web