(Jamaica Gleaner) Legalize It and Equal Rights, Peter Tosh's landmark albums for Columbia Records, will be reissued June 21 by Columbia/Legacy Records, a subsidiary of Sony Music International.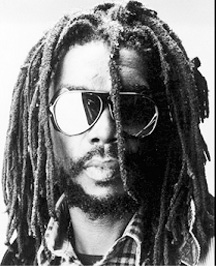 A statement from Columbia/Legacy said Legalize It: Legacy Edition and Equal Rights: Legacy Edition, revisit two of the most powerful statement albums in popular music, complete with liner notes, previously unreleased demos and out-takes from their recording sessions.
It is the second time in 12 years that Columbia/Legacy will reissue the albums, which were first released by Columbia Records in 1976 and 1977, respectively. They will coincide with the 40th anniversary of the National Organisation for the Reform of Marijuana Laws (NORML) of which Tosh was a supporter.
A public service announcement Tosh did for NORML in 1976 will also be broadcast on radio this year. Columbia/Legacy are to re-release seven-inch vinyl singles of Legalize It and Equal Rights.
Murdered
Tosh, a founding member of The Wailers group along with Bob Marley and Bunny 'Wailer' Livingston, was murdered at his St Andrew home in September 1987 at age 42.
Legalize It was his first most ambitious project since leaving The Wailers in late 1973 following an acrimonious tour of Britain.
The album contained the ominous title track, Burial, Brand New Second Hand and Igziabeher.
Tosh secured the deal with Columbia through Lee Jaffe, the American harmonica player who had befriended The Wailers in the early 1970s.
In a May 2003 interview, Jaffe said Tosh had a controversial concept for his major label debut.
"He had written a song, Legalize It, and I felt from an American point of view that was a big issue and would draw a lot of attention," Jaffe recalled.
It was Jaffe who took the photograph of Tosh in a ganja field in the town of Bluefields, Westmoreland, the singer's home parish.
Interestingly, CD two of Legalize It: Legacy Edition is Tosh's final mix which was presented to administrators at Columbia.
One year later, the equally provocative Equal Rights was released. In addition to the title song, it included The Wailers standard Get Up, Stand Up, Downpressor Man, Stepping Razor, African and I Am That I Am.
The Columbia/Legacy reissues comes at a time when there is a Peter Tosh renaissance. Roots singer Bushman recently covered several of his songs on the Bushman Sings The Bush Doctor album.
Last year, Tosh's son Andrew, paid tribute to his father with Legacy: An Acoustic Tribute To Peter Tosh. That set was nominated in the Best Reggae Album category at this year's Grammy Awards.
Comments

The Caribbean Community (Caricom) has signalled its interest in working with China to ascertain how its goals and priorities can be best linked with existing, new and emerging development initiatives from the East Asian country.

A status report issued by the Caricom Regional Marijuana Commission says that the subject of ganja has emerged as an issue of social significance across the region.

(Trinidad Express) A Sangre Grande man was shot dead in his bed yesterday morning.

SANTIAGO,  (Reuters) – China invited Latin American and Caribbean countries to join its "One Belt, One Road" initiative yesterday, as part of an agreement to deepen economic and political cooperation in a region where U.S.
PORTO ALEGRE,  (Reuters) – Brazilian politicians, voters and investors will find out on Wednesday whether an appeals court will allow the country's most popular leader, Luiz Inacio Lula da Silva, to run for president this year after being found guilty of accepting a bribe.