(Jamaica Gleaner) Senator Dorothy Lightbourne has been dumped from her post as justice minister and attorney general, making her the biggest casualty of the long-anticipated reshuffle of the Bruce Golding Cabinet.
Lightbourne, a major character in the Manatt-Dudus saga, had not been expected to survive in the Cabinet shake-up after receiving a pounding for her handling of the extradition request for accused drug kingpin Christopher 'Dudus' Coke.
On Tuesday night, Daryl Vaz, minister with responsibility for information, told The Gleaner that Karl Samuda, minister of industry, investment and commerce, opted out of the Cabinet.
"He was offered another position, which he refused, and so that decision was entirely up to him," Vaz said.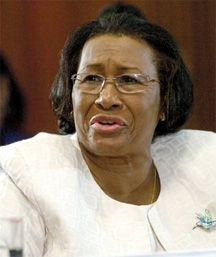 Well-placed Gleaner sources indicate that Samuda was being offered the job as energy and mining minister.
In the case of Lightbourne, Vaz argued it would not be a fair assessment to say the handling of the Coke extradition request led to her demise.
He said he did not know what happened, but government insiders suggested her management style might have cost her the Cabinet post.

Not attorney general
Replacing the former justice minister will be current House Speaker Delroy Chuck, who up to the 2007 general election had shadowed the justice portfolio for the Jamaica Labour Party (JLP).
The new justice minister will, however, not become attorney general, in keeping with the recommendation of the Manatt-Dudus commission that the posts be separated.
"A further announcement will be made concerning the appointment of a new attorney general," the Office of the Prime Minister (OPM) announced in a release Tuesday night.
Other Cabinet changes announced by the OPM include Clive Mullings' return as minister of energy and mining, replacing James Robertson who resigned last month after revealing that his United States visa had been cancelled, along with that of his wife.
Robertson claimed then that he believed the cancellations by the American embassy might have resulted from allegations of criminality levelled against him by a Jamaican seeking asylum in the US.
Around the Web