MANAUS, Brazil, (Reuters) – Thirty years after he  first visited Brazil's Amazon to observe natural gas seeps,  geologist Marcio Mello is back to fulfill what he gleefully  calls his "destiny" — to lead a rush for the region's oil.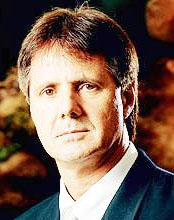 Mello, chief executive of the recently listed firm HRT, has  convinced a range of investors — including one of Russia's top  energy firms — that the vast and remote rain forest is a  promising source for oil despite decades of production there  and enormous environmental challenges.
With the development of Brazil's most prolific offshore  reserves currently on hold and concerns growing about political  intervention at state-led Petrobras, HRT has become a new  avenue for investors to tap into Brazil's oil boom.
"We found so much gas in the Amazon that it stayed in my  DNA. Since then it's been in my DNA that I had to come back  here — I've found my destiny!" said Mello, 57, who speaks  about sedimentary basins and rock formations with an exuberant,  almost preacher-like fervor.
After a 24-year career with state oil company Petrobras,  Mello went on to create several petroleum geology consulting  firms including HRT, which later bought rights to develop oil  in the Amazon region known as the Solimoes Basin.
It is also exploring for oil off the coast of Namibia, an  area Mello says is geologically similar to Brazil's Santos  Basin that is home to the country's biggest crude discoveries.
HRT's shares are up around 13 percent since it went public  in October 2010, compared to a drop of more than 10 percent in  Brazil's benchmark Bovespa index over the same period.
Geologists have for years known about the oil potential of  the Brazilian Amazon. But Petrobras did little to expand in the  area after its first foray in the 1980s, focusing instead on  offshore production that now provides the lion's share of  Brazil's oil.
Petrobras' dominance of the country's exploration and  production sector meant it was the only oil firm with  significant output in Brazil's Amazon. That will change this  year, when HRT and its partner company Petra begin their first  output.
The biggest challenge for HRT, experts say, will be the  logistics of pumping oil from an isolated jungle region without  harming the sensitive environment.
"The Amazon is a complex and expensive place to work.  Everything that we take to the site we have to take back out.  But our oil is the best oil in the Southern Hemisphere," Mello  said during an event last week in the Amazon city of Manaus,  referring to the high-value light oil held in the area.
To reduce the impact on the forest, rigs have to be  separated into more than 500 pieces and flown by helicopter to  drilling sites. Every time a rig moves to a new place, that  process starts again.
Flexible pipelines, which wind as much as 20 kilometers  (12.4 miles) around hills and through vegetation, transport  crude from the wells onto river barges.
ENVIRONMENT
CHALLENGE
HRT says the operations will not spark the problems created  in other parts of the Amazon such as Peru, where indigenous  groups have protested against gas drilling, or in Ecuador,  where oil production sparked a long-running legal battle.
This is in part because Petrobras operations have had a  relatively small ecological impact, and because HRT has  partnered with a local conservation group to help fund forest  protection and create jobs in the area.
Despite its potential for damage, environmentalists do not  consider the oil industry a primary threat to Brazil's Amazon  — most instead focus on ranching, logging and agriculture that  fuel deforestation.
"But if we get a major oil spill, it'll be a very different  story," said Philip Fearnside, an ecologist at the National  Institute for Research in the Amazon.
Around the Web