(Jamaica Observer) ROMAN Catholic priest Monsignor Gregory Ramkissoon has issued a call for wealthy Jamaicans to give more of their resources and time to the country's vulnerable, poor and the youth in the face of overwhelming need.
He also called on Jamaicans to stand up against the negative aspects of dancehall music, and urged advertisers to boycott media houses that promote lewd and violent content.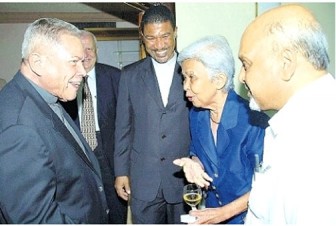 Speaking at a fund-raising dinner staged for the charities of the affluent Stella Maris Church in St Andrew — Ramkissoon shocked the audience with anecdotes of the grinding poverty and despair faced by some Jamaicans not far from some members' comfortable homes in upper St Andrew.
"While we are thankful for the Mustard Seed Communities, Stella Maris and others which have been so good, there is a lot more to be done. We must reach out to each other and learn to be comfortable in each other's space," Ramkissoon said at the dinner at the Jamaica Pegasus Hotel in Kingston on Friday evening.
The Trinidad-born Ramkissoon, who holds the title of vicar general, is founder and executive director of Mustard Seed Communities — a charity focusing on the care of vulnerable persons including those living with HIV/AIDS, persons with disabilities and teen mothers in several countries including Jamaica, Dominican Republic, Nicaragua and Zimbabwe.
Ramkissoon cited cases where the challenges of the poor have landed on the charity's door step.
In one case, a seven-year-old HIV-positive child brought to a Mustard Seed facility had 23 maggots taken from his head.
In another case, 60 of the 80 children who attend the Mustard Seed Basic School went to school one day without breakfast and brought no lunch. He also pointed out that several young girls come to Mustard Seed's facilities daily for food.
"I'm asking if more cannot be done to give us more hope. There are many little children who are not eating when they come to school. We cannot depend on the Government to do everything," he said.
"There are many more cases of neglect and abuse, but we can't give up. We are too rich to be rendered impotent in the face of all the negative things around us," he said.
Ramkissoon stressed that there was need not only for money, but for equipment, buildings and facilities to assist the work of charities in helping persons take charge of their lives. He said there was a desperate need for role models, especially for the inner-city's young men.
The priest also called on heads of media houses not to give time and space to content that degrades women, incites violence or promotes illegality, and urged advertisers not to support those entities that put out such content.
"The media has a responsibility not only to reflect what comes to it from society, but in these times, especially, to enlighten, educate and help in the shaping of positive values in our society. If this is not done we should not support the respective media houses with ads or sponsorship. We cannot allow our entertainers who have no regard, in many cases, for good decency and taste, to lull us into submission," he said.
At the dinner, Monsignor Michael Lewis bade farewell to his parishioners after more than seven years at Stella Maris. He has been assigned to St Richard's Church on Red Hills Road where he promised to continue to be outspoken on critical issues.
Proceeds from the dinner went to Stella Maris's several ministries including the St Vincent de Paul Society which assists the poor, sick and needy; the prison ministries at Fort Augusta, Tamarind Farm and St Catherine Adult Correctional Centre; the Stella Maris Foundation which funds skills training, micro-enterprise development and crime reduction; an HIV/AIDS ministry; and an inner-city feeding programme.
Around the Web