GUATEMALA CITY, (Reuters) – The murder of Argentine  folk singer Facundo Cabral in Guatemala on Saturday was the  work of international gangs targeting his concert promoter,  Guatemalan President Alvaro Colom said late on Monday.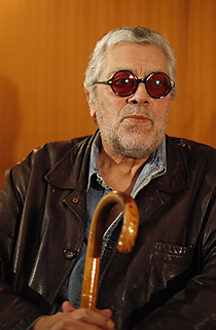 "The bullets that took Facundo Cabral's life came from the  dark bowels of transnational organized crime," Colom said in a  televised address as Cabral's body was being flown home from  Guatemala, where the singer had been on tour.
All the evidence suggested that Cabral's promoter Henry  Farina, not the singer, was the target of the attack, Colom  added.
Gunmen opened fire on Cabral as he was heading to the  airport early on Saturday, killing the 74-year-old and  seriously wounding Farina, who was driving their car.
Farina, born in Nicaragua and owner of a chain of Central  American strip clubs called Elite, was shot three times and is  in critical condition in a hospital in Guatemala City.
Guatemala, one of the poorest countries in Central America,  has one of Latin America's highest murder rates.
Authorities have not said if Farina has links to organized  crime, but that they will question him if his health improves.
Cabral, born to a poor family in 1937, rose to fame across  Latin America in the 1970s as a protest singer.
He was best known for his 1970 song "No Soy De Aqui, Ni Soy  De Alla," ("I'm Not From Here, I'm Not From There Either")  which was covered by many other artists including Julio  Iglesias.
Around the Web