BUENOS AIRES,  (Reuters) – When Argentina's  president revealed last month on live television she would run  for re-election, her accompanying announcement offered "TVs for  All".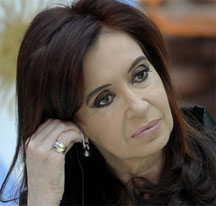 The initiative, which aims to help thousands of Argentines  buy flat-screen TVs with low-cost loans, is part of President  Cristina Fernandez's plan to maintain brisk consumer spending  and court lower-income voters before an Oct. 23 election.
"TVs for All" accompanies sister initiatives "Beef for All"  and "Fish for All," in which food trucks supply reasonably  priced steaks and hake to poorer parts of the capital where  high inflation is eroding purchasing power.
The programs are meant to curb skyrocketing consumer prices  in Latin America's third largest economy. They have won praise  from low-income Argentines who are prepared to wait in  sometimes long, slow lines for subsidized goods.
Private economists and opposition politicians dub the  initiatives as populist election ploys that will have little  effect on double-digit inflation.
The government has not disclosed the cost of the programmes.  Some in the opposition say they will mainly benefit food  businessmen with close ties to the ruling Peronist party.
"We want to reach every single home," Fernandez, who has a  wide lead in opinion polls, said as she announced  "TVs for  All".
Earlier this week, Fernandez unveiled programmes to supply  affordable milk, cheese, yogurt and pork — "Pork for All" and  "Dairy products for All" —  drawing criticism from the  opposition three months from the presidential vote.
"These measures are nothing but campaign marketing …  sending some trucks to squares to deliver pork and milk isn't a  plan, it's a publicity stunt," said opposition lawmaker  Christian Gribaudo.
Fernandez shuns orthodox monetary policy as a way to tame  inflation estimated privately at more than 20 percent. She has  used price agreements and export curbs to keep prices down.
Government officials blame inflation on retailers and big  business. The government has sought to silence economists whose  estimates more than double the rate reported by the discredited  official statistics agency.
Despite surging prices, opinion polls show most Argentines  are more concerned about crime than inflation as Latin  America's No. 3 economy grows by about 9 percent per year.
Still, schemes like "Beef for All" and "TVs for All" are a  sign the president is worried about the impact of inflation on  lower-income Argentines — a key part of her support base.
Pensioners will be the first to benefit from credits being  supplied by state-run bank Banco Nacion, allowing them to buy  LCDs in 60 installments at a very low interest rate. Many  retirees say their pensions have not kept pace with inflation  despite a series of increases.
Around the Web