(Jamaica Observer) Being deported seems like a degrading experience that often leaves deportees disoriented. Issues such as the unavailability of jobs, the struggle to fit into a positive niche in society and pipedreams about going back to "foreign" often clips the wings of men and women so labelled.
But reintegration can be easier than anticipated and the National Organisa-tion of Deported Migrants (NODM) teaches them how to do it successfully.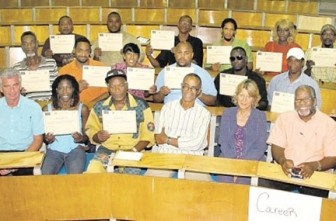 "Sometimes we start by looking too far," Orville W Beckford, lecturer, Department of Sociology at the Univer-sity of the West Indies (UWI), Mona Campus, said Thursday.
"Quit trying to find a way back to the States or the UK, focus on developing yourselves right here," he preached, urging the 22 men and women who successfully completed a series of workshops and motivational sessions with the organisation.
The NODM spawned from a larger programme — the Migration and Development Programme funded by the European Union — and was officially launched on October 24, 2010 at the UWI. Then, it had 75 deported migrants, but now has 71.
"Nobody goes beneath the stigma to see the quality of people you are," said Beckford, apparently attempting to boost the spirits of the audience. "Three hundred-odd years of slavery could not enslave your minds," he continued.
Regarding the difficulties of migrants getting employed, Beckford levelled with the group by giving a brief account of his previous life in which he did odd jobs to earn a living and said: "Some of us were deportees in our own country."
Professor Bernard Headley, project director of NODM, said that the group has been a success story.
"It's a positive light that we're shedding here. Not one of our 75 people got into any trouble with the law. Nobody was arrested," he stated.
At Thursday's function, held inside the inter-faculty lecture theatre, Jennifer Hylton, who sings under the moniker Foxy Brown (no relation to American rapper Foxy Brown), performed the national anthem and a song entitled Sorry. After wowing everyone with her vocals, she too received a certificate.
"I was deported in 2010," she said. "I came home on March 25th. I suffer with bipolar disorder. This programme helped me to get back into singing. I met a lot of people through this programme and I realise that I'm not alone," she added, beaming.
Around the Web