(Jamaica Gleaner) History was created on Thursday in the St Mary Circuit Court when a senior citizen who sexually molested his 50-year-old stepdaughter when she was four years old got a 12-month jail sentence for indecent assault.
Rheunick Green, 71, of Shirley Castle, Portland, showed no remorse when the sentence was imposed for the more than 40-year-old crime.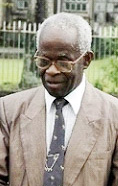 "I am happy that the jury and the judge believed me," said the complainant, Judith Scott.
Scott said she was now trying to get on with her life and that she was grateful she had her siblings to give her moral support. She said when she heard the judge telling Green that he showed no sign of remorse, "I think that spoke volumes".
A seven-member jury had found Green guilty on July 14 of two counts of indecent assault. He was also charged with four counts of carnal abuse which allegedly took place when the woman was between four years and 15 years, but the jury freed him of those charges.
The jury found Reid guilty of indecent assault on his stepdaughter when she was four years old and 15 years old.
Supreme Court judge Jennifer Straw sentenced him to 12 months' imprisonment for the first count and six months' imprisonment for the second count. The sentences are to run concurrently, so he will serve 12 months.
Around the Web