(Jamaica Observer) Caribbean media practitioners have been challenged to expand their role as social advocates and demand accountability from governments in the face of increasing evidence of corruption.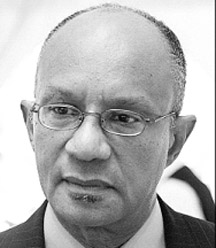 Former political activist and Professor Trevor Munroe said journalists had a responsibility to "confirm, to qualify or to contradict with evidence and analysis the people's perception that corruption is rampant in high places".
"Available evidence suggests that Caribbean people are getting tired of corruption in high places and of economic distress, which accompanies the corrupt use of resources needed for development," Munroe said. He cited evidence documented in the 2010 report of the Latin American Public Opinion Project (LAPOP).
Munroe, director of the National Integrity Action Forum (NIAF), was addressing media practitioners from across the region on 'The role of media in combating corruption and strengthening governance' at the launch of last week's Media and Democracy workshop 'CBA:Live from Kingston'. The two-day workshop was put on by the Commonwealth Broadcasting Association along with the Caribbean Broadcasting Union, UNESCO, CPTC, TVJ, CVM and LIME.
Monroe pointed to what he said was the critical role played by the Jamaican print media in ensuring the extradition of Christopher 'Dudus' Coke, noting the 206 editorials, letters and columns dealing with the issue which reached a crescendo when Coke was finally extradited last May. This advocacy, he said, must translate to keeping the media spotlight on corruption in government in-between elections.
"The media has a critical role, not just in exposing scandals that can lead to the removal of one government who the electorate believe to be very corrupt; only to replace it with another government who the electorate believe to be relatively clean, only to discover that the new government behaves in a manner as corrupt as the old."
He urged journalists to help fill legislative loopholes and those in law enforcement in relation to "the untouchables in the Caribbean".
"Ask yourselves how come, in so many Caricom (Caribbean Community) states, there is prima facie evidence pointing to irregular procurement procedures, bribery payments as well as kick-backs and improper expenditure of public funds, yet there is little or no successful investigation, prosecution and conviction of persons in high places?
"When last has there been a prosecution or conviction for 'illicit enrichment', a crime in most of our territories?" asked Monroe.
He urged local media   practitioners to push for reforms of campaign financing based on recommended changes by the Electoral Commission of Jamaica (ECJ) last year, related to the registration and funding of political parties. That report appears to have stalled following Parliamentary approval in November 2010.
Monroe, a former People's National Party Senator, is also part of the Jamaica Civil Society Coalition — a group that has been championing the implementation of these ratified sections of the ECJ's report.
Just last month, the ECJ produced another report establishing limits for campaign donations, limits for campaign expenditure, conditions for state funding of campaigns and reporting and disclosure regulations dealing with contributions to parties. This report has gained some traction among members of civil society with a communique` being signed ahead of being handed over to political parties.
Monroe called the media to rally to this cause and "demand that there should be no untouchables".
"Investigation, successful prosecution and incarceration of those guilty of paying bribes and taking bribes must be demanded and pursued with 'Nick Davies type' courage and determination," he said.
Monroe also added that citizens across the region "are losing confidence in the apparent inability of democratic governance to cope more effectively with corruption, with the continuing under-performance of our economies which it inevitably carries with it, and with the blocking of opportunities for a better life for the 'man in the street'."
In playing the role, he said, the key target "is for the media to be alert to any corrupt contaminants within its own ranks and to focus on legislation and law enforcement in what is now the main arena of corruption: namely public contracting, party regulation and campaign finance."
Around the Web