BRASILIA, (Reuters) – Brazilian President Dilma  Rousseff has suffered the first major fall in her popularity, a  poll showed yesterday, as she battles a rash of corruption  scandals and a slowing economy.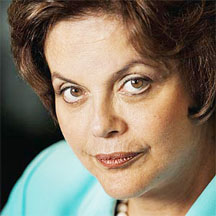 Although her ratings remain relatively high, a sustained  fall could undermine the 63-year-old career civil servant's  ability to stay the course on economic austerity measures and  make it harder to push reforms through an unruly Congress.
Rousseff's approval rating dropped 6 percentage points to  67 percent, while the number of those who disapproved more than  doubled to 25 percent, a survey by the Ibope polling firm  showed.
"People had expectations that weren't fulfilled," said  Flavio Castelo Branco, director of economic policy with the  National Industry Confederation, which releases the poll.
The center-left Rousseff took office on Jan. 1 amid high  expectations, buoyed by a roaring economy and the huge success  of her predecessor and patron, Luiz Inacio Lula da Silva.
But she has faced an increasingly tough economic  environment, plagued by inflation and a marked slowdown in  growth even before the global market plunges of recent days.
Her government adopted $30 billion in unpopular budget cuts  and has hiked interest rates five times to 12.5 percent to  combat inflation, jacking up costs for the country's  credit-reliant consumers. She has taken a tougher stand against  corruption and nepotism than Lula, angering her main coalition  partner but apparently failing to reap the reward of greater  public support.
Further falls in polls could rob her of the crucial  political clout she needs to maintain budget cuts and continue  to root out corruption in ministries.
"She needs to improve her communication skills or she risks  losing more political capital," said Rafael Cortez, a political  analyst with Tendencias consultancy in Sao Paulo.
Despite some improvement, Rousseff still shies from public  appearances and, unlike the charismatic Lula, struggles to  connect with ordinary people.
Among planned reforms to improve Brazil's growth prospects  that have yet to be taken up by Congress are an overhaul of the  country's Byzantine tax code, and legislation to regulate  royalties from the country's oil riches.
With the mounting global crisis set to slow Brazil's  economic growth more than initially expected, Rousseff aides  fear her ratings could turn further south.
"Her biggest concern right now is the economy," said a  source in the presidential palace on condition of anonymity.
Around the Web