(Jamaica Observer) The management and workforce of the sugar factories sold to the Chinese company COMPLANT will be largely Jamaican, with China only providing key managers and experts, the company disclosed on Tuesday.
"Chinese and local staff should integrate their cultures and management structures through a localised administration and work together to make this project a fine example of China and Jamaica cooperation," said Tang Jianguo, chief executive officer of the COMPLANT Group of Companies stated.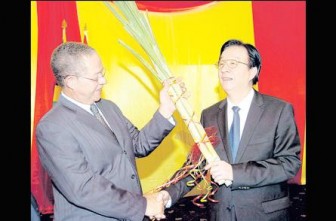 "We will only dispatch essential senior managers and key technical experts, while the day-to-day industrial and agricultural operation will rely mostly on local staff," he added.
Jianguo made the disclosure at the official hand-over ceremony of the Jamaican Government sugar assets at the Jamaica Pegasus on Tuesday.
Tang said, as of December last year, COMPLANT began to deploy Chinese managers and personnel as well as factory and agricultural experts to the three divisions at Frome, Monymusk and Bernard Lodge in preparation for the 2011-2012 sugar crop.
He said COMPLANT has invested over US$8 million to take care of the cane fields to lay a solid foundation for the next crop.
He disclosed that a report plan for the 2011-12 crop had been completed and US$20 million in materials and equipment had been ordered from China, with the first shipment to arrive in September.
The Chinese expects to develop a harmonious and cooperative relationship with all stakeholders in order to improve the sugar industry, he said.
In his address at the handover, Prime Minister Bruce Golding expressed excitement at that prospect of the Chinese bringing their world-renowned efficiency in manufacturing to the Jamaican environment. He also hoped that COMPLANT will quickly turn a profit in order to encourage more Chinese investment and create more jobs.
"When that caller on 'Mutty' Perkins programme proclaimed that one 'Chiney can do five smaddy work', it is not something that should make us indignant about the loss of jobs, it should cause us to look at ourselves and say what is so deficient about us," the prime minister said.
Around the Web