(Jamaica Gleaner) Kuti Ra of Greater Portmore, St Catherine, passed six subjects in this year's Caribbean Secondary Education Certificate (CSEC) exams at the age of 12. His passes include a distinction in human and social biology.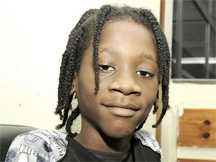 Ra, who will be starting classes at Jamaica College next month, got grade two passes for English A and biology, and grade three passes in geography, mathematics, and social studies. He only recently celebrated an average in the high 80s in his GSAT exams.
Ra was homeschooled, which he said he enjoyed. His mother, Kamau Mahakoe, set a rigid study timetable for him.
"My mother helped me to balance my time. She set the timetable for me and I just followed it," he said.
Ra seemed at ease, almost nonchalant about his achievement.
"I feel normal like any other time because I was expecting it, and I am hoping to attempt all CSEC subjects by the time I finish school," he said.
Despite his busy study schedule, Ra makes lots of time to have fun. He enjoys surfing the Internet, reading, and playing with animals. He also uses his spare time to create portraits of animals, which he intends to compile and make into a book some day.
Around the Web