(Trinidad Guardian) Police Commissioner Dwayne Gibbs says 315 people have been arrested since the institution of the state of emergency. Gibbs said from 8 am on Wednesday to 8 am yesterday, 183 people were arrested. He said daily crime had been substantially reduced.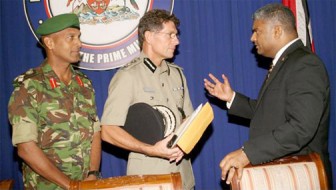 His message to the criminal elements who believed they could escape: "We are gonna come after you." He said of the 183 arrests, 59 were for gang-related activities; nine were for homicides; 17 for drug-related offences; 25 for breaches of the curfew; one firearm-related offence; six for serious offences and 66 for outstanding warrants. Gibbs was speaking at the post-Cabinet news briefing yesterday at the Office of the Prime Minister, St Clair.
It was the first time a Police Commissioner spoke at a post-Cabinet news briefing. Gibbs said: "It brings our total up to 315 people arrested since the state of emergency was placed into effect and 115 of those arrests were gang-related. Again, we are seeing some success.
"Our crime rate, in terms of the daily crime that is occurring, is substantially reduced and we are starting to see some gains in terms of the gang-related targets." Gibbs said the 315 arrested people were still in custody at holding bay cells throughout the country.
He added: "We are working to put the people that have been arrested, that will be charged, through to the prisons' system.
Around the Web