MEXICO CITY, (Reuters) – President Felipe Calderon  declared three days of mourning yesterday and demanded a  crackdown on drugs in the United States after armed men torched  a casino in northern Mexico, killing at least 52 people.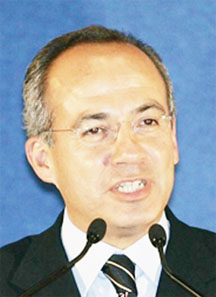 Under intense pressure as violence soars, Calderon said he  would send more federal security forces to the city of  Monterrey, where gunmen set fire to an upmarket casino on  Thursday in one of the worst attacks of Mexico's drugs war.
Lashing out at corrupt officials in Mexico and "insatiable"  U.S. demand for drugs for fomenting the violence, Calderon  urged the U.S. Congress to stamp out drug consumption and stop  illegal trafficking of weapons across the border into Mexico.
"We're neighbours, we're allies, we're friends, but you are  also responsible," a sombre and angry Calderon said to the  United States in a speech after meeting his security advisers.
Pledging to step up the fight on organized crime, Calderon  said Mexico was under attack from "true terrorists", and told  all Mexicans to come forward and denounce those responsible.
"They aren't and cannot be the ones in charge of our  streets, our cities and our future," he said, shortly before  departing to Monterrey to take stock of the situation.
U.S. President Barack Obama called the attack "barbaric"  and said his government stood shoulder to shoulder with Mexico  in the battle against the gangs.
"We share with Mexico responsibility for meeting this  challenge and we are committed to continuing our unprecedented  cooperation in confronting these criminal organizations," Obama  said in a statement issued by the White House.
Washington provides money and resources to Mexico in the  drugs war, but joint cooperation has been damaged by mistrust,  a botched U.S. plan to track down weapons smugglers and the  killing by suspected hitmen of a U.S. customs agent in Mexico  this year.
Calderon first ordered a crackdown against the cartels when  he took office in late 2006 and several senior traffickers have  been arrested. However, turf wars between rival cartels have  killed about 42,000 people, battering Mexico's reputation.
Around the Web