(Trinidad Guardian) Prime Minister Kamla Persad-Bissessar on Monday revealed Government would seek to extend the state of emergency but reduce curfew hours when the matter comes up for debate in Parliament on Friday.
She made the announcement to her constituents at Penal, after commissioning a water project at Temple Street, Digity Trace, Penal, which provides pipe-borne water to 168 residents for the first time.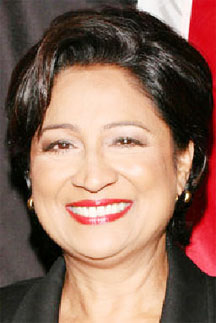 Some housewives wept after hearing they no longer have to tote water for miles from ponds, rivers and springs. Persad-Bissessar also assuaged her constituents' fears that criminals would ravage their villages when the state of emergency ended.
"I know some of you are worried about what will happen when the state of emergency ends, that the criminals will take revenge when the curfew comes to an end. "I want to assure you that we have strategies in place to deal with this if it should occur." The Prime Minister said even though more than 800 persons have been detained since the state of emergency was declared last week, security forces still needed additional time to complete their work. She did not say what the new curfew hours would be, noting that matter had to first be discussed by members of the National Security Council. She added: "First we will go to Parliament on Friday and debate the statement from the President and you are the first to know that we are going to extend the state of emergency.
"What we also want to do is reduce the curfew hours so that people can go about their normal business and at the same time, the curfew can allow the protective services to do their job." Persad-Bissessar said the National Security Council would give Government advice about reducing the curfew. She paid tribute to members of the Police Service who have been working round-the-clock to bring in the criminals. On Monday, detectives and CID officers in the Southern Division said they were not being paid overtime, even though they have been working in excess of 100 hours a week since the state of emergency was declared. Persad-Bissessar said: "I want to thank the protective services for the great job they are doing. They have conducted themselves with courtesy in most cases and they are making our citizens feel secure."
She added that even though the state of emergency had affected the pockets of some businesspeople, family life had improved. She said: "Some people have said to me that they are now getting to spend more time with their children.
Around the Web