(Jamaica Gleaner) Jamaican drug lord Christopher 'Dudus' Coke yesterday pleaded guilty to charges of drug and gun running, and one count of assault.
While appearing in a lower Manhattan court, Coke pleaded guilty to one count of racketeering conspiracy and one count of conspiracy to commit assault with a dangerous weapon in aid of racketeering.
Coke faces a maximum of 23 years and The Gleaner understands that prosecutors will seek the full term. He will be sentenced on December 8 at 4 p.m.
Manhattan U.S. Attorney Preet Bharara welcomed Coke's plea.
"For nearly two decades, Christopher Coke led a ruthless criminal enterprise that used fear, force and intimidation to support its drug and arms trafficking 'business'. He moved drugs and guns between Jamaica and the United States with impunity. Today's plea is a welcome conclusion to this ugly chapter of criminal history," he said.
Court documents made public yesterday said that Coke conspired to distribute marijuana and cocaine in the U.S. as well as receiving firearms in relation to his narcotics trafficking activity.
According to the documents, Coke cannot appeal his sentence and he will be deported after serving his term.
Meanwhile, a nephew of Christopher Coke, residing in Tivoli Gardens seemed surprised and devastated that Coke pleaded guilty.
The nephew, who asked not to be named, said he spoke to his uncle recently and did not receive any indication that Coke had plans to plead the way he did.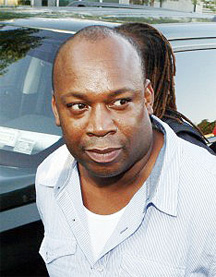 One month after security forces and the fugitive's supporters engaged in a bloody battle in his community, Coke – who was the community leader in Tivoli Gardens in West Kingston – was arrested in June 2010.
At least 73 persons were killed in the fighting, which involved gunmen from across the island, who had gathered to aid Coke.
Legal proceedings in his trial had begun. However, his defence took a major hit when a US Federal Court Judge ruled against suppressing wiretap evidence.
"This decision means that Coke's chances of being freed in connection with this indictment are now statistically very low," US-based Jamaican law Professor David Rowe told The Gleaner shortly after the judge's ruling.
"He will have to be acquitted at trial. In the face of overwhelming scientific and testimonial evidence, that is very unlikely," Rowe had added.
Around the Web