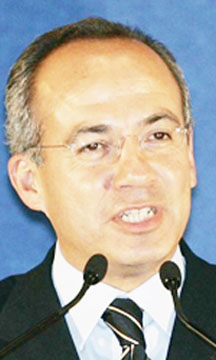 BOGOTA, (Reuters) – A criminal gang capable of  smuggling 10 tonnes of cocaine a month for Mexico's bloody  Sinaloa cartel has been dismantled following the arrest of 36  suspects, Colombian authorities said yesterday.
The arrests have been hailed as a success of cooperation  between Colombia and the United States, which has contributed  with billions of dollars in aid to help the Andean country  fight drug smugglers with links to Marxist guerrillas.
"I want to sincerely congratulate … the public  prosecutor's offices (of Colombia and United States), the  police, the army (and) the air force, because this shows that  our fight against drug trafficking is delivering accurate  blows," President Juan Manuel Santos told reporters.He said 36 people had been arrested in the operation, which  followed on from the detention of 19 suspects last month that  belonged to a gang that built submarines to smuggle cocaine out  of Colombia, the world's top producer of the narcotic. He did  not disclose where the arrests took place.
Some 21 aircraft were confiscated in the latest operation,  which crushed a smuggling ring that supplied cocaine to  Mexico's Sinaloa cartel, the most powerful organized crime gang  in the Americas.
"This operation between the United States and Colombia has  a direct impact that should relieve violence and drug  trafficking in Central America and Mexico," said General Oscar  Naranjo, the head of the Colombian police.
The security forces seized 5 tonnes of cocaine, more than  $1.5 million in cash, and arrested some "big shots" who worked  for the ringleader, Daniel "Mad" Barrera, who remains at  large.
Around the Web