(Trinidad Express) Selwyn "Robocop" Alexis, who appeared in court on Monday charged with murder six days after his arrest, is claiming that "politics" was the reason for his arrest, detention, and prosecution.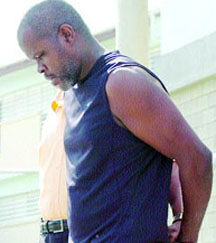 "This is politics, ent? Politics man, politics," Alexis said as he left the San Fernando Second Court yesterday afternoon, where he was charged with killing a man in Enterprise, Chaguanas, two years ago.
The charge was laid by homicide investigator Sgt Anderson Parriman, a week after Alexis was arrested during a raid at his rented apartment at the affluent One Woodbrook Place, Woodbrook.
Around 3.25 p.m yesterday, a dark tinted sport utility vehicle, escorted by a police vehicle with sirens blaring, arrived at the court with Alexis.
Officers of the Crime Suppression Unit and Homi-cide Department secured the area.
Twenty minutes later a handcuffed Alexis appeared before Justice of the Peace Jackie Sergeant.
She read the charge that on October 7, 2008, he along with other persons, while at Nimblett Street, Enterprise, murdered Vincent Emmanuel Simmons.
Simmons was sitting in the porch of his home at Michael Terrace, off Nimblett Street, Enterprise, when two men walked up and shot him three times in the head. Simmons, a national of St Vincent, died at the house.
Alexis, 45, was told yesterday he will be remanded in custody until today when he will be taken before a Chaguanas magistrate.
"Ok ma'am," said Alexis said. He had no legal representation.
He remained standing in the holding bay of the court.
"That's it?" he asked.
Sergeant nodded.
Around the Web