SOLOLA, Guatemala, (Reuters) – During Guatemala's  civil war, Mayan weaver Mari Luisa Chiro was terrified of the  soldiers who patrolled her small village. Now she says she  wants the army back to crack down on criminals and drug  traffickers spreading fear in the country's highlands.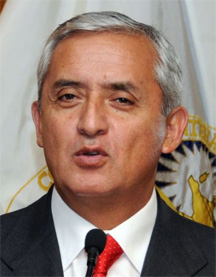 Chiro, whose 15-year-old daughter was kidnapped last month  and has not been seen since, plans to vote in this Sunday's  presidential election for retired army general Otto Perez, who  is promising an "iron fist" to fight spiraling crime.
Running for the right-wing Patriotic Party in his second  bid for the presidency, Perez has a wide lead in polls,  although he might not win the 50 percent of votes needed to  avoid a run-off vote in November.
Perez, 60, commanded troops during the 1960-1996 civil war  between government forces against leftist guerrillas, a  conflict that killed nearly a quarter-million people, mostly  Mayan. A U.N.-backed truth commission set up after the war  found the army had committed hundreds of massacres.
"Yes, we are scared (of the military), but now things are  worse than they were during the war," said Chiro, 42, wearing a  traditionally embroidered outfit at a rally supporting Perez in  the town of Solola west of the capital.
She backs Perez's plan to increase the national police  force by 10,000 officers and add 2,500 soldiers to the army  during his four-year presidential term.
Around the Web