(Trinidad Express) A Trinidad woman, seduced into going on a weekend vacation trip to Tobago, was found dead on Tuesday—strangled and beaten at a guest house in Bacolet.
The body of Felicia Samsundar, 22, of Hermitage Village, Macaulay, south Trinidad, was found in bed, with her face battered and bloodied, and with an electrical cord and towel around her neck. One eye appeared to be punctured.
It was the third killing in Tobago this year.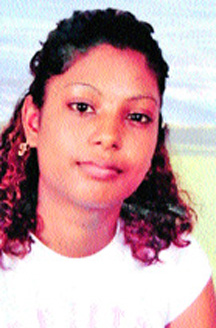 Police have detained a 30-year-old suspect from Chaguanas, who was found drinking at a bar at Mount St George, Tobago.
Samsundar, who was not married and had no children, was a safety officer employed with a company on the Point Lisas Industrial Estate.
She lived with her parents, Sulthan Mohammed and Davica Samsundar, and two younger siblings.
At the family home yesterday, Davica Samsundar said her daughter went with the man to Harry's Water Park last Friday, and the following day was taken shopping for clothing at Trincity Mall.
"Later that day, my daughter and the man parked their vehicle at the Piarco airport and went to Tobago," she said.
The mother said she kept in touch with Samsundar by cellphone.
"My daughter told me she was forced to go to Tobago. She wanted to come home Friday and sleep. But he asked her to sleep over at his house. I didn't think he was a bad boy. He used to come home and spend time," she said.
The guest house where Samsundar was found is about 200 metres away from the home of Peter and Murium Green, who were chopped multiple times in August 2009.
Police were told that Samsundar and a man checked into the guest house, belonging to Shirvey and Majorie James.
The couple were supposed to spend one day, but extended the stay.
Around the Web