CARACAS (Reuters) – Venezuela's 2012 presidential election campaign was unofficially underway yesterday, with President Hugo Chavez and his foes rallying supporters and predicting victory in the South American OPEC member.
Authorities set the vote for Oct 7, 2012 — day of the patron saint of Chavez's birthplace Sabaneta and also the birthday of a leading opposition leader — meaning Venezuelans are in for more than a year of noisy politicking.
"I give the order to prepare for the battle and the great victory on Oct 7," Chavez said, after again reassuring supporters he would soon recover from his cancer treatment.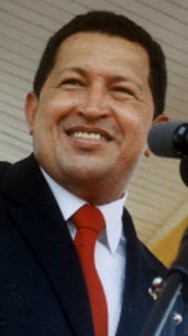 "I'm going to give a little surprise to those who think I'm close to the tomb," the 57-year-old socialist leader added in a string of buoyant calls to state media.
Chavez's cancer diagnosis and ongoing chemotherapy have given him a small sympathy bounce in opinion polls, where his approval remains above 50 per cent.
Yet ill health has also hurt his aura of invincibility.
The voluble Chavez has led Venezuela since 1999, remolding the economy along statist lines and turning himself into one of the world's most vocal US critics. But he faces an opposition movement more united than ever and set to rally around a unity candidate after a primary election in February.
Analysts say that while Chavez has vastly more resources to sway voters, it is an open race given how divided the nation is and the uncertainty surrounding his health.
The president is due to start a fourth session of chemotherapy in coming days, which he said yesterday was purely preventive to stop any spread of malignant cells.
He said the fourth chemotherapy round should be the last, but few details are known about his precise condition after surgery in Cuba to remove a tumour in the pelvic area.
Though minimizing public appearances and following a stricter personal routine on doctor's orders, Chavez has remained ubiquitous via calls to media and Twitter messages.
That has analysts predicting a "virtual" campaign rather than his usual gruelling criss-crossing of the nation.
An October election date, earlier than Venezuela's traditional December timing for presidential votes, gives Chavez less time to recover but also means a shorter campaign that would be less demanding on his health.
"I think Chavez would win anyway, despite his health, but definitely the change in date helps him, because he's taking advantage of the show over his health," said university professor Marietta Garcia, 34.
After its internal vote for a February primary, the opposition Democratic Unity movement will have two months less than expected for campaigning, but that might not be a bad thing given its inferior finances.
If the opposition is to unseat Chavez, who has held them off with relative ease during most of the numerous national votes since he came to power, its leaders must remain united.
Analysts say the opposition must also make a mammoth effort to woo Venezuelans, particularly in poor urban and remote rural areas that are Chavez strongholds, and it has to project policies that o further than just opposing him.
Opposition supporters trust that Venezuelans' increasing frustration with failing services like electricity, untamed inflation, and crime levels on par with war zones, will outweigh Chavez's advantages including the sympathy factor.
"Chavez's downward tendency will continue when daily realities displace the vicissitudes of the president's health among citizens' worries," pro-opposition newspaper editor Teodoro Petkoff said. "Everything points towards victory."
Chavez, though, retains fanatical support among many of Venezuela's poor majority and has a big war-chest to spend thanks to the high price of oil. Already, he has launched a massive house-building campaign to try and address one of Venezuelans' biggest complaints in time for the election.
Markets will watch every twist and turn in the campaign.
"Next year's presidential election is Venezuela's most important non-oil credit driver," Nomura bank said in a report titled "Let the games begin."
"The possibility of a democratic transition of power could reverse ongoing credit deterioration."
The favourite to win the opposition's primary is Henrique Capriles Radonski, the 39-year-old governor of Miranda state whose political model is former Brazilian leader Luiz Inacio Lula da Silva's mix of social justice and market economics.
"I'm ready to give peace to the nation," he said.
Around the Web