(Trinidad Express) Days following her United Nations address on women's political participation and in the midst of a State of Emergency, Kamla Persad-Bissessar agreed to an exclusive interview about her experience and evolution as Prime Minis-ter of Trinidad and Tobago. This is Part One of that interview. Part Two will appear in the Express Woman next week.
Prime Minister Kamla Persad-Bissessar admits now that her Government's greatest mistake was the controversial but brief appointment of Reshmi Ramnarine as the director of the Strategic Services Agency (SSA).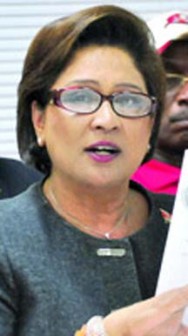 Persad-Bissessar also dismisses rumours of a drinking problem and clarifies the work her sister Vidwati Newton does for her.
Asked about the mistake of Ramnarine's appointment, the Prime Minister is direct but unwilling to delve.
"The greatest fallout was the appointment of Reshmi Ramnarine," (as director of the Strategic Services Agen-cy), she says immediately. "There may have been others. At the time it seemed like the best thing to do. I can't go into all of those reasons at this point in time. I think it was a mistake. I did say it was a mistake but I will not make another one like that," she assures.
Ramnarine resigned from the position within a day of public scrutiny regarding both her qualifications and her leap from junior support staff to director of the country's chief intelligence-gathering agency.
When pressed as to why she at first thought the decision to be astute Persad-Bissessar would only point to her February admission to the "misstep" in Parliament.
Persad-Bissessar isn't a wide open book but she pairs the deftness of a seasoned politician with compassion, charm and an enduring calm even when asked uncomfortable questions.
One of those is: Is she an alcoholic?
"It is not true. It is definitely not true. I could not work the hours and days and nights that I do should I have had such a problem. That began in our internal elections by the way," she said, referencing the January 2010 insinuation by former United National Congress (UNC) leader, Basdeo Panday that she fell drunk on a statue of Gandhi in India.
She laughs: "It is so totally false. I never visited the Gandhi statue. I don't even know where it is."
Is her sister Vidwati Newton involved in a romantic relationship with Caribbean Airlines chairman, George Nicholas as one newspaper has alleged?
"To my knowledge it is totally untrue. In fact they ran a story saying that she and George ran off to Canada. The poor child never went to Canada with me since being here and I never travelled with George to Canada either."
Newton, Persad-Bissessar says, had always left her life and work in London to come to Trinidad during elections. She is a trusted assistant, helping the Prime Minister with travel, preparations for meetings, wardrobe and meals. "Strangely enough," she says, they don't discuss "work or business at all".
She clarified that Newton is not employed or paid by the government.
"I do give her some of my own money because she has to live," Persad-Bissessar chuckles. "She was gainfully employed for many years and I am very grateful to her for helping me. I can trust her with my personal things: my food, my clothing. She came for the internal election and within weeks when Mr Manning called the general election I had to say 'come back'. She came immediately and has been here ever since."
Has the Prime Minister ever lied to us?
"I have not lied to the people of T&T but sometimes I do tell a white lie to my grandson," she laughs. "I cannot recall any such instance. I may have made a mistake at one time or another but I do not recall deliberately lying to the public."
The pristine state room at the Office of the Prime Minister in St Clair where this interview takes place is filled with the smell of tiger lilies but the evening songs of sirens still reach past the wood-paneled walls.
It's a metaphor for her year-and-a-third of ups and downs, good and bad.
She flourishes a scarf she received from the family of Christa Brumant, an 11-year-old recipient of the Children's Life Fund who was treated at the Shriners Hospital for Children in Philadelphia, USA. Brumant won a design competition at the hospital.
"Why do I like politics? That is one reason. For every life that you impact—whether it is saving a life or improving the quality of life—you feel like you did your part," she says.
Persad-Bissessar doesn't acknowledge the part that political expediency plays in her decision-making, pointing variously to "evidence" and "the voice of the people".
Her abolition of corporal punishment as Education Minister in a UNC administration was "not just a compassionate decision, it was a rational decision".
"It was predicated on empirical evidence which says that violence to children in schools just breeds more violence," she says.
Despite the fact that the move was based on a recommendation of a Joint Select Committee and had the support of the Trinidad and Tobago Unified Teachers Association (TTUTA), it was not a popular call. A decade on some people still blame student indiscipline on the lack of licks.
But Persad-Bissessar says her Government's unsuccessful constitutional amendment to remove obstacles to capital punishment shouldn't be taken as the erosion of her commitment to non-violence. In fact, it can be read in many different ways.
The people want it: "I always say the voice of the people is the voice of God. As a Prime Minister and an elected representative of people my job is not about me. My job is to know what the majority opinion is and to get that opinion out."
It is a rational move: "There are case studies done that this can act as a deterrent."
And, finally, it's on the law books: "What we are seeking to do is to implement the law of the land. That decision is not rational, empirical or otherwise. It is the law of the land. Unless and until the law changes that is the law."
How does she resign instances where the will of the people doesn't square with empirical evidence? Persad-Bissessar claims that in her entire political career she is "yet to meet such a situation".
"At the end of the day the voters would tell us whether we were wrong or right but I have not thus far met a situation where the rational decision and empirical evidence are not supported by the majority," she says.
Around the Web