(Trinidad Express) Prime Minister Kamla Persad-Bissessar spent a second night at St Clair Medical Centre in Port of Spain due to an allergic reaction to a dye administered during her medical evaluation.
Persad-Bissessar was taken to the private health facility on Wednesday after complaining of swollen feet.
A statement from the Office of the Prime Minister yesterday stated that the Prime Minister continues to undergo a series of medical assessments, including "a comprehensive medical" which required her to stay.
Her doctors advised "that the decision to extend her stay was only out of an abundance of caution following a mild allergic reaction to the dye administered during an evaluation," the statement said.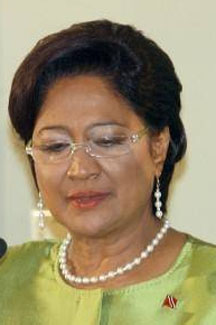 It noted that the Prime Minister "has maintained the performance of her duties whilst being continuously updated by her Cabinet colleagues. The Prime Minister has received several Ministers and held discussions on Government business," the statement said.
At yesterday's post-Cabinet press conference, at the Office the Prime Minister, St Clair, Health Minister Dr Fuad Khan said a number of tests were conducted on the Prime Minister and they were all "normal".
"What we're looking at is to see whether the swelling of the feet is a local problem or a systemic problem, it seems to be a local problem," said Khan.
The Express learned that a local problem would mean that the swelling of the feet would have been caused by something falling on it as opposed to systemic which means that failure of some organ in the body was the source of the problem.
Education Minister Dr Tim Gopeesingh said on Wednesday that the Prime Minister was reaching for something on her shelves and two cans fell on her feet a week ago.
Persad-Bissessar was admitted to the St Clair medical hospital on Wednesday to undergo tests. Both her feet were visibly swollen and she complained of feeling unwell at a public function.
Khan said the Prime Minister was "resting comfortably".
"She has been subjected to numerous investigation assessment, and they all proved to be normal or post normal for a person of her standing and she may be discharged tomorrow (today) pending the results of the investigations. However, at this point of time she is comfortable and resting very well and a lot of the investigations have proven to be quite normal," said Khan.
Yesterday, while the Prime Minister was resting at the St Clair hospital just a stone's throw away from her office, Finance Minister Winston Dookeran chaired the weekly Cabinet meeting.
Minister of Foreign Affairs and Communications Suruj Rambachan said Persad-Bissessar continues to fulfill her duties even while hospitalised.
"The Prime Minister is a very remarkable person and continues to work in the interest of the country" he said.
"She's a very strong-minded and strong-willed person and it seems to all of us that national duty is in fact her very first order of business and she continues to direct the affairs of the country," said Rambachan.
Around the Web