(Jamaica Gleaner) – Education Minister, Andrew Holness, is set to become Jamaica's next Prime Minister after his parliamentary colleagues put aside their own ambitions to endorse his candidacy to become leader of the Jamaica Labour Party (JLP).
The announcement that the party leaders had reached a consensus on selecting Holness was made at a press conference yesterday morning.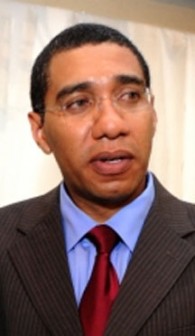 However, the decision will have to be ratified by the JLP secretariat and delegates.
Holness accepted the endorsement and thanked his colleagues for putting their personal ambitions aside.
He noted that he has been preparing for this day for years, and stated that one of the important themes of his leadership would be unity.
The education minister also said he would lead a government of equity and efficiency.
Continuity was also a major theme of the speech delivered by Holness, as he promised to continue the policies, programmes and anti-corruption stance on which the party was elected in 2007.
The party's ratification will pave the way for Holness to become Jamaica's ninth prime minister.
Prime Minister Bruce Golding has already indicated he will soon step down from that position.
Around the Web