(Trinidad Express) Two men who were found shot dead inside a car near Ortinola Estate, Maracas, St Joseph, were yesterday described by their relatives as shady characters.
The men have been identified as Nicholas Junior Ashton, 27, also known as "Palance", and his friend and neighbour Akil Randy Bristol, 24, both of Wharf Trace, Maracas, St Joseph.
TV6 News reported last night that 20 murders have taken place within the 45 days of the State of Emergency, according to figures supplied by the Homicide Division.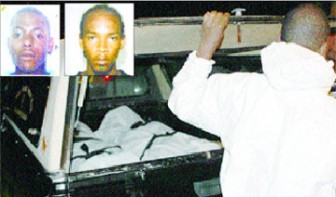 Ashton and Bristol were discovered shortly after 8 p.m. by Cpl Andre Joseph and other officers from the Northern Division Task Force, who responded to a report of gunshots being heard in the area.
Bristol, the driver of the vehicle, had gunshot injuries to the body while part of Ashton's face was blown away during the attack. Police believe he was shot with a shotgun.
The men were discovered by police inside a black Mazda 323 motorcar on the roadway near the Ortinola Estate.
A black car was seen fleeing the scene shortly after the incident, and officers believe both victims were lured to their death.
Ashton's mother, Carol Millette, during an interview with the Express at the Forensic Science Centre, St James, said the incident did not come as a surprise because of the persons with whom her son associated.
She said on the night of the incident, which she only found out about early yesterday morning, she heard police sirens and saw a helicopter hovering in the area but paid no attention to it.
Millette, who added that she would miss her son, said she tried hard to raise him in the right way, but he deviated from such values and clung to persons of ill repute.
Ashton was the father of two children, his mother said.
She said: "He was just at the wrong place with the wrong people at the wrong time. He moving around with some fellas who is imps. Mischief? He doh really be on that, but you could find him sometimes on the block smoking weed and that is about it, but to say he was in gang thing, nah. Wharf Trace doh really have no gang, but anybody could tell you i
Around the Web