BRASILIA,  (Reuters) – Creativity and improvisation  have long been the most celebrated trademarks of Brazilian  soccer teams.
For governments, though, those traits are less desirable.  President Dilma Rousseff's willingness to make sudden,  unexpected changes to economic policy is becoming one of the  biggest risks of doing business in Brazil, a trend that  officials tell Reuters is likely to continue in coming months.
In the last two months, Rousseff's government has shaken  foreign investors with numerous policy shifts, including:
* A surprise interest rate cut on Aug. 31 that is still  reverberating in markets, making Brazil's real one of the  world's worst-performing currencies since.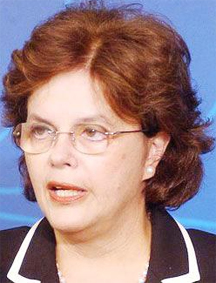 * A reduction in the percentage of ethanol mixed into local  fuels, the timing of which unsettled biofuels companies and led  to an increase in gasoline imports.
* A 30 percentage-point increase in a tax on imported cars,  which virtually overnight priced many vehicles out of the  Brazilian market and forced auto manufacturers from China and  elsewhere to rethink local investments.
Looked at in isolation, some of the measures have barely  caused a ripple outside their respective industries. But taken  together, they suggest a mounting risk in Brazil that business  plans can be turned upside-down with little to no notice, if  Rousseff's government finds it convenient.  Officials on Rousseff's economic team, speaking on  condition of anonymity in order to frankly discuss policy, said  fast, flexible action has been essential to protect Brazil from  the ever-changing effects of the global financial crisis.
They say the relatively ad hoc approach is likely to  continue in the medium term and one official said the degree of  policy uncertainty was "miniscule" compared to the "chaos" in  Europe and the United States.
Rousseff's poor relationship with Congress makes it very  difficult for her to undertake the kinds of structural reforms  that could meaningfully reduce above-target inflation, for  example. That leaves her with little choice but to pursue  measures such as the ethanol rule that do little to solve the  core problem, but might shave a tenth of a percentage point or  so off headline inflation by the end of the year.
"It's not the best way to make policy … but these are the  tools we have available to us," a second official said.
One new step under consideration is the more vigorous sale  of government stocks of foodstuffs such as rice and beans to  help keep food prices down and, perhaps, ensure that the IPCA  consumer price index ends the year below the government's 6.5  percent target ceiling. The IPCA stood at 7.31 percent in the  12 months through September, a six-year high.
"You'll probably see more measures like this in coming  months," the official said.
MOVES COULD BACKFIRE  
Rousseff's improvisational approach contrasts with recent  years, when economic policy in Brazil was prized above all for  its boring predictability.
Her predecessor, Luiz Inacio Lula da Silva, had little  choice but to be conservative. His past as a labor union leader  and one-time radical meant that investors were ready to revolt  at the first sign of unconventional economic policies,  especially at the beginning of his presidency. Lula's consistency through eight years in office helped  make Brazil a star among emerging markets, although he became  slightly less conventional toward the end of his presidency.  His solid record also arguably gave Rousseff, his chosen  successor, more room to maneuver since she took office Jan. 1
Unlike Lula, who didn't finish elementary school and  delegated many policy matters to his top aides, Rousseff is a  trained economist who officials say has been personally  involved in almost every major economic decision.
Her record, so far, is mixed. Brazil's economy has to date escaped the worst of the  global financial crisis. Unemployment is near all-time lows,  and her popularity has remained high at about 70 percent.
Yet gross domestic product is likely to disappoint this  year, with growth expected at around 3.5 percent. That is below  its peers in the BRICS emerging markets group — China, India,  Russia and South Africa — and most big economies in Latin  America.
Rousseff's recent policy measures appear designed to ensure  that Brazil's economy continues growing at a healthy pace and  avoids the stagnation seen in rich countries, says Zeina Latif,  chief Latin America economist for RBS.
"They recognize that it's not all about textbooks and  models when it comes to the economy," Latif said.
However, she also warned that a constant drip-drip of new  measures can also create confusing new obstacles to doing  business in an economy that is already highly regulated and  taxed by emerging market standards.
"We already have layers upon layers of distortions in  Brazil," she said. "The risk here is that by intervening, you  ultimately end up constraining economic growth."
CHINESE ANGERED BY MEASURES      
Rousseff and her finance minister, Guido Mantega, have  repeatedly avowed their commitment to the so-called "three  pillars" of Brazil's economic boom since the 1990s: a floating  exchange rate, inflation targeting and fiscal responsibility.
Yet, in practice, Rousseff has essentially sacrificed this  year's inflation target for the sake of maintaining economic  growth. The central bank has established a de facto currency  band of between 1.55 and 1.90 per dollar by intervening in the  foreign exchange market or creating new capital controls when  those extremes are threatened.
Rousseff's fiscal record is very solid. But the  government's penchant for intervention is leaving a growing  trail of angry business leaders and officials.     Chen Jian, China's vice commerce minister, reportedly  warned in Geneva last month that foreign companies could stop  investing in Brazil if it adopted more measures like the car  import tax. Brazilian officials say the move was necessary  because other countries are manipulating their currencies to  make their exports cheaper.
"No closed economy can grow, and it won't get the dividends  of development either," Chen said, according to Brazil's  Agencia Estado. "(They) also run the risk of watching companies  leave."
Around the Web