(Trinidad Express) Former chief operating officer of UDeCOTT, Neelanda Rampaul, racked up a TT$3.2 million bill over an eight-month period at the Hyatt Regency "in cookies, sleepovers and lavish banquets", Housing Minister Roodal Moonilal told the House of Representatives yesterday.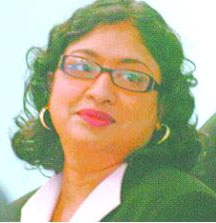 Contributing to the budget debate, Moonilal said all this spending was paid for by the taxpayers and was classified as "office expenses" but the "office expenses" were food such as "cookies".
"Cookies?" his colleagues asked in disbelief. "Yes, cookies. Like biscuit nuh. I have the bills here from UDeCOTT," he elaborated.
As he detailed the bills, which were incurred during the period September 2009 to April 2010 when the Uff Commission of Enquiry was in progress, the minister said: "Two dozen cookies, I don't know what is this fascination with cookies. … They buy up to Duracell batteries and put it on UDeCOTT bill. Chicken, avocado. In one case they run up bills for TT$2,000, all in eating—caviar, pork chops."
He said "all hell broke loose" at the State enterprise, whose name became synonymous with corruption during the last months of the PNM regime.
"Another bill in January, from the Cool Bar for pina colada, mixed sushi, salmon, spicy negiri. Food bill again! A virgin banana!" he said slowly, causing uproar. "Mr Speaker I better put down this bill, yes," he said, provoking loud chuckles and desk-thumping.
"Three million dollars! September 09- fish of the day. Look they reach to curry now. But they couldna get curry by Patraj. Mr Speaker, cookies again!," he said incredulously. "She must be cookie monster," chirped Lopinot/Bon Air MP, Lincoln Douglas. "This must be some kind of sophisticated cookies I don't know about. Macaroon, oatmeal, almond cookies, all paid for by taxpayers!" Moonilal quipped, as MPs listened in amusement. "Lamb chops, pork chops, any chops!" he said, itemising more bills.
"Mr Speaker, the wanton waste. But they (the PNM) don't want us to allocate money (to the Ministry of the Attorney General) for forensic audit. Because if we audit properly we would find out about all the pina coladas, and pork chops and lamb chops and virgin bananas (that were consumed during the PNM tenure)," he said, in response to the PNM Marlene McDonald's question about which attorneys were feeding on theTT $108 million trough, set aside for legal fees under the 2011 budgetary allocation of the Ministry of the Attorney General.
Moonilal said he had no problem with people liking a lavish lifestyle and wanting executive meals but they must do it at their expense and not have the taxpayers foot the bill. Rampaul resigned at the end of March 2010, days after the Uff Report was submitted to the President. The Hyatt's liquor licence is under Rampaul's name.
Around the Web