LA GRITA, Venezuela (Reuters) – Venezuelan leader Hugo Chavez declared himself cancer-free yesterday, four months after surgery to remove a malignant tumour that shook the South American nation ahead of a 2012 presidential election.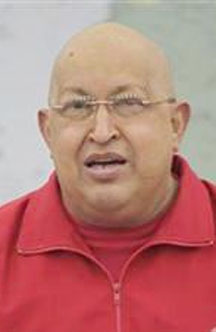 "I am free of illness," Chavez, 57, said in an address to Venezuelans after touching down from Cuba in a western state to make a pilgrimage to a Catholic shrine.
"The new Chavez is back … We will live!"
Despite the charismatic socialist president's ebullience, doctors say it is impossible for him to be considered out of danger until at least two years after treatment has finished.
"No matter what kind of cancer he was treated for, it's just too early to tell," said a US-based cancer expert, who asked not to be named.
Nearly 13 years into a radical rule that has transformed the South American OPEC member, Chavez plans to run for re-election in a presidential vote set for October 2012, and insists he will win.
"It will be easier for a donkey to pass through the eye of a needle than for the opposition to win the elections," Chavez added in a typically idiosyncratic use of a Biblical quote. With constant jibes at Washington and a self-styled "revolution" at home, Chavez has become one of the world's best-known and most controversial heads of state.
He says he wants to rule for at least another decade or two to "accelerate" reforms that have included sweeping nationalizations, huge injections of oil revenues into social projects in the slums, and tighter grips on opponents. Adored by supporters in poor areas, he is viewed as a clownish but dangerous dictator by foes who say Chavez wants to install an unwanted Cuban-style communism in Venezuela.
Dressed in green military uniform and looking overjoyed, Chavez said the tests he underwent in Cuba this week had shown there were no malignant cells in his body following four cycles of chemotherapy after the June 20 operation in Havana.
"It's a miracle that I am with here you," he said in a second speech to the nation after kneeling in prayer at the Christ of La Grita shrine, in the Andean foothills, to repay a promise and give thanks for his health improvement. Chavez has not given precise details of his cancer, but the surgery was in his abdomen region. There has been intense speculation his condition is worse than he has let on, with one Venezuelan doctor who has treated him in the past quoted this week as saying he only had two years maximum to live. Chavez is the latest in a group of fellow Latin American leaders who have undergone cancer treatment and also declared a clean bill of health just months after treatment.
Brazilian President Dilma Rousseff won a 2010 election after chemotherapy while Paraguayan President Fernando Lugo was diagnosed last year with a lymphoma that he said was in remission four months later.
Touching down in western Tachira state, the ever-theatrical Chavez hugged smiling ministers and warmly greeted supporters, singing with some and slapping the backs of others.
After a first speech carried on all Venezuelan TV and radio stations, he set off driving through the hills to the shrine, waving at supporters from an open-topped vehicle.
"I am more and more Christian. Socialism is the way of Christ. Love, social justice, that is Christ," said Chavez, who has mixed communism, Catholicism and veneration of Venezuela's independence hero Simon Bolivar during a remarkable rule.
Chavez exuded confidence but eventually looked tired and hoarse at the end of a three-hour roadshow clearly designed to show Venezuelans his old physical strength was returning.
Around the Web