MIAMI, (Reuters) – Cuban government reforms  expanding the private sector are driving real change on the  communist-ruled island, spurring hopes for economic growth and  greater freedom, a U.S. pro-democracy group said yesterday.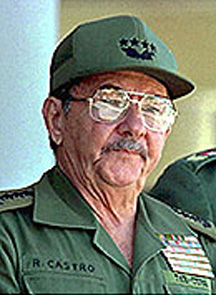 Freedom House, often vilified by Cuban state commentators  as a tool of U.S. efforts to topple communist rule in Cuba,  offered the unusually positive assessment of the impact of  President Raul Castro's reforms in a report based on a field  survey conducted on the island in June.
The June 1-22 survey, carried out without the cooperation  of Cuban authorities, canvassed Cubans' perceptions about a  raft of economic reforms formally approved at an April congress  of Cuba's ruling Communist Party.
The most ground-breaking initiative, which had begun before  the congress, widened self-employment and private business  opportunities for tens of thousands of Cubans in a bid to soak  up worker layoffs in the stagnant centralized state economy.
"The growth of a private sector is fueling individual  initiative, personal autonomy and aspirations for greater  freedom," the Freedom House special report said.
"Change is coming to Cuba," it added.
Freedom House said its team of researchers carried out 190  interviews with Cubans in six provinces.
The report said a majority of Cubans, 63 percent, had a  favourable view of the ongoing government reforms. It cited a  retired man who now sells ice cream as a self-employed worker  saying: "Imagine, I can make more money selling ice cream than  I ever did as an accountant for the government."
Freedom House said the reforms had generated "a growing  sense of optimism" since the last field research conducted by  the Washington-based organization in December 2010.
Sixty-three percent of those surveyed believed the  government reforms would improve the cash-strapped Caribbean  island's situation, compared with only 45 percent in December.
Reflecting budding expectations, 30 percent expected their  families' economic situation to improve in the next 12 months,  up from 17 percent six months previously.
But, 62 percent saw it remaining about the same.
Freedom House said the Cuban economic reform drive was  "accompanied by a growing interest in civil liberties."
But the reforms have also caused insecurity and resentment  among some Cubans. Freedom House said such feelings had also  accompanied the shift from communism to market economies in  Eastern Europe and the former Soviet Union.
Government "forced
by necessity"      
"People now have autonomy that comes with their own  business, they are now thinking about the future and thinking  about more," Daniel Calingaert, Deputy Director of Programs at  Freedom House and one of the report's authors, told Reuters.
When asked what reforms they would like to see in Cuba, the  largest number of those surveyed, 28 percent, said they wanted  increased freedom of expression and freedom to travel. Eleven  percent said they wanted better salaries and 8 percent desired  economic improvement.
Five percent said they wanted a change in government.
Calingaert said the opinions reflected in the report  signified a real change in ordinary Cubans' perceptions, rather  than any intention on the Cuban government's part to alter or  replace the island's one-party communist system.
Around the Web