(Trinidad Express) It's time to take back our communities from criminal elements who have wreaked havoc in our homes and our lives. Now is the time to take it back, step by step."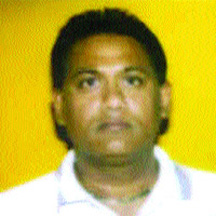 These were the words of councillor for Caura/Paradise/ Tacarigua Prakash Barath, who spoke at the funeral service of murdered Tunapuna businessman Teddy Phillip yesterday.
Phillip, 43, was shot dead on Sunday evening by one of three bandits during a robbery at his home. Up to late yesterday, police said they were working on several leads and they expected to make several arrests in connection with the incident.
Phillip was shot twice in the head during a struggle with the assailants as he attempted to reach for his licenced pistol, which was also taken by the bandits.
Tears flowed among relatives and friends who came out to bid Phillip farewell at the service which took place at his Eastern Main Road, Tunapuna home, which also houses his air condition business.
As his coffin was being placed into the hearse, Phillip's wife, Camilla Singh, grabbed the casket screaming, "Leave him here with me! All yuh, please, don't take my Teddy away from me. I want him to stay here at our house."
Singh had to be restrained by other relatives who also broke down in tears.
"Teddy, why you leave we and gone? You had such a bright future for your family and your sons. Why you leave us and gone? Please, Teddy, take us with you.You don't go anywhere without us and we want to go with you," Singh screamed.
Addressing those gathered, councillor Barath also issued a call for the police to get more involved with the community.
He said he knew Phillip and his family for a very long time and it was a sad day when bandits could commit such an act, with total disregard for life and the rule of law.
Barath also stated that most businesses within his electoral district have been victims of armed robberies.
He said: "Almost every single business in my area have been robbed in someway. People are being raped in our communities and I think its time we really get some serious action with respect to crime in our community. I can tell you today that none of us will feel loss and pain the deep sense of hurt this family, his wife and his children, have been put through.
"How can we feel safe when criminal elements continue to do things like this in our society? Degrade our society, rape and kill at will and I am saying today that we must stop this. I am also calling on the local police to get more involved in the communities so we could see more police around," Barath said.
Around the Web