(Jamaica Observer) Contractor General Greg Christie has expressed "grave concern about the massive workload of some contractors" who he said "continue to receive government contract awards despite the obviously impossible workload they already have".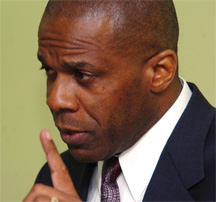 The Contractor General, in the 24th Annual Report of that office tabled in Parliament on Tuesday, said it was critical that public bodies do the necessary due diligence to ensure that contracts are not awarded to contractors who have exceeded the permissible workload limit specified by the National Contracts Commission (NCC) rules. These persons, he said, continued to gobble up Government contracts despite the fact that their "human, technical, financial and equipment resources are already stretched thin".
In the meantime, expressing displeasure with the continued poor performance of contractors, Christie said "there are several NCC-registered contractors who have been found culpable of performing poorly on government works projects, but who, notwithstanding, continue to legitimately receive government contracts".
"This has occurred widely as a result of the failure of public bodies to document and report the offending contractor's underperformance to the NCC," Christie said in the report.
He said while the NCC has legal sway to delist contractors for poor work quality or government contract breaches, thus preventing them from bidding on future government contracting opportunities, it cannot do so without the requisite supporting documentation and information.
In the meantime, the contractor general has called on the Government to urgently take steps to "formally institutionalise the blacklisting of underperforming government contractors".
Around the Web