(Trinidad Guardian) Food Production Minister Vasant Bharath says adopting a "Buy Local" approach will significantly reduce the T&T food import bill currently put at TT$4 billion. He said if T&T was to properly develop its local agricultural sector it could export food to Caricom countries—whose food import bill stands at US$4 billion per annum. Interviewed recently, Bharath said: "We spend about $4 billion on food imports. It is one of the reasons we launched 'Put T&T On Your Table'. It is essentially about getting more consumers to purchase locally grown fruits and vegetables."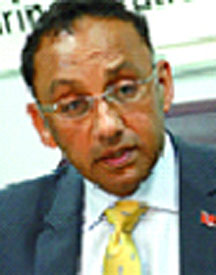 Bharath added: "The governor of the Central Bank (Ewart Williams) has stated inflation has been at its lowest for the last 40 years. Food prices have fallen over the last six months. "That's another reason why we are encouraging farmers to grow local." Apart from farmers cultivating crops on small acreages, Bharath boasted about the thrust to mega farms. Earlier this month they launched another one of their large farms. Bharath said: "In July, we launched the first which was supposed to be in sweet corn and hot peppers. In August, we saw the resuscitation of the rice industry. We have dedicated 100 acres to rice farmers. Up 'till 50 years ago, we produced a lot of rice."
Grim international
picture
The international climate paints a horrible picture in places like war-torn Somalia. Josette Sheeran of the World Food Programme warns that two million people could die because Islamic militants known as Al-Shabab are preventing the distribution of emergency food supplies to the famine-stricken south of the country. At home, Bharath said, a boost to the agricultural sector is mandatory since the majority of foreign countries which export goods to T&T have been subject to the vagaries of climate change, various forms of land use rather than agriculture and a burgeoning middle class.
He said: "Factors like these are curtailing the exports of these foods. It is incumbent on us as a Government to ensure we have food security. "Today, we are producing less than 5 per cent. We could start substituting. There are more things we could grow locally an better our economy."
More sweet
potato fries
Patting himself on the back, Bharath said: "Only today, the flagship outlets (selling sweet potato fries) raised it from six to nine outlets. We have seen a significant take up on the product." Consumers can now enjoy a local menu of sweet potato fries from the popular fast food restaurant KFC. In addition to potato fries, KFC will now be serving sweet potato fries in four of its outlets from today, but the locally grown sweet potato would be accessible in other outlets on a phased basis.
On July 20, Bharath launched sweet potato fries as part of a national campaign to promote food security in T&T, at the Diplomatic Centre, St Ann's. It cost just under $1million and was knitted to the Government's mandate to promote buying and eating locally produced items.
Another agricultural milestone would be the distribution of "4,000 acres of land for agriculture". Bharath said: "It is the largest ever in the history of T&T. That would open up the window for the production of local food. Promoting Buy Local goes hand in hand with the distribution of land." Touching on the perennial flooding problem, Bharath said: "There has been no significant amount of compensation because there has been little flooding."
Charity begins
at home
Bharath said one of the most important interventions is serving more local foods from the cornucopia of fruits and vegetables. He cited the example of the School Feeding Programme. Bharath said: "We serve about 150,000 meals per day. I have asked the local stakeholders to ensure there is more local content."
He said he had approached Cabinet colleagues like National Security Minister John Sandy to ensure prisoners are fed local produce culled from local farms. At the Food Production Minis-try's base, Bharath said they had taken a decision to ensure indigenous foods like fruits and vegetables are served at functions.
Around the Web