SAO PAULO (Reuters) – Doctors in charge of throat cancer treatment for former Brazilian President Luiz Inacio Lula da Silva called his response to chemotherapy "impressive" and said the tumour in his larynx had shrunk by 75 per cent in size.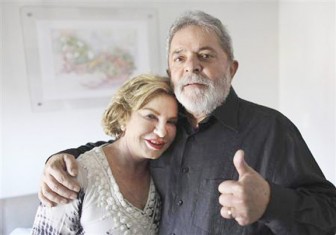 The popular Lula underwent his third and final round of chemotherapy yesterday, which will be followed by radiation therapy in the coming months, finishing in February.
Doctors on the team treating the former president at the Hospital Sirio-Libanes said they were "impressed".
"It was an extraordinary reduction (75 per cent) that surprised the medical team," said oncologist Artur Katz, adding that a 30 to 40 per cent shrinkage would have been a positive response to treatment.
The team of physicians said that Lula would be able to return to political life by March next year if he continued to respond well to the treatment.
He would also not likely lose any capacity in one of his defining traits as a public speaker – his burly and explosive voice – as doctor's ruled out surgery in light of the shrinkage of the tumour.
Lula's diagnosis in late October shocked Brazilians and raised debate about political life without the charismatic former union boss, who remains an influential force in Latin America's largest economy.
Analysts and politicians have even speculated Lula could run for president again in 2014 if President Dilma Rousseff didn't seek reelection.
Lula, who turned 66 a little over a month ago, plays a vital role in his left-leaning Workers' Party.
He has also been a powerful advisor and peacemaker for Rousseff this year as she deals with infighting in her ruling coalition and weathers the resignation of now seven ministers, six of them due to corruption scandals.
Before taking office in January, Rousseff was herself treated successfully for cancer at the same medical centre that is treating Lula.
Around the Web