(Jamaica Gleaner) University Professor Anthony Harriott has pointed to the beheading of reputed Clansman gangster Nervado Hodges as a "sure sign" that members of the criminal underworld believe they have immunity from prosecution.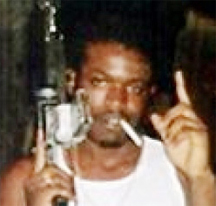 Harriott, a professor of political sociology at the University of the West Indies, Mona, argued that this belief stems from the country's "appallingly" low rate of homicide convictions.
"That's a sure sign of immunity when you can chop off a head and place it in a plaza (to) draw attention to your criminal act," Harriott said during a round-table discussion put on by The Gleaner and the Centre for Leadership and Governance at the newspaper's central Kingston offices on Wednesday.
"That's a level of confidence that you feel secure that you have immunity. You are inviting people to come after you," he added.
Body found
The St Catherine North police confirmed late yesterday that the head found in Sagicor Shopping Centre on Burke Road, Spanish Town, shortly after 4 a.m. belonged to Hodges.
His body was found hours later with multiple gunshot wounds along the Spanish Town bypass.
Senior Superintendent Anthony Castelle, who heads the St Catherine North Police Division, told The Gleaner that Hodges, who is popularly known as 'Mavado' and 'DJ', was wanted for more than 30 murders committed in the parish.
Hodges, who had a J$500,000 reward out for his capture, was believed to be a top lieutenant in the notorious Clansman gang.
Investigators believe he was killed by other gang members who wanted to "send a message" to a breakaway group he led. The group was blamed for carrying out several killings in St Catherine.
"He killed a lot of people in Lakes Pen, Quarry Hill and De La Vega City, including relatives of top-tier members of the gang," one investigator revealed.
Added the investigator: "(So) they (his killers) want to send a message that people like this they don't want around."
Low convictions
One way of taking away the "overtness" of criminals, Harriott suggested, was increasing the rate of homicide convictions which, according to him, now stands at just under 10 per cent.
He argued that this would also help to sustain the reduction in major crimes which started after the incursion into Tivoli Gardens, west Kingston, last year to capture then fugitive Christopher 'Dudus' Coke.
To achieve this, Harriott said law enforcement has to become more robust and suggested that stronger institutions within the criminal justice system have to be a part of that.
"My estimate, based on work done years ago, was that effective law enforcement could get us below 20 incidents per 100,000. I still hold to that," he said.
Around the Web