(Trinidad Guardian) Oppo-sition Leader Dr Keith Rowley says Prime Minister Kamla Persad-Bissessar must tell the nation who is funding her annual Christmas toy-distribution programme. He said the initiative would incur an annual cost of millions of dollars. Persad-Bissessar said previously it was not being funded at the expense of taxpayers. Rowley raised the matter while responding to questions from reporters following the presentation on Wednesday of keys to the second-and-third-place winners of the People's National Movement three-car raffle at Richmond Motors, Richmond Street, Port-of-Spain. He said: "The information reaching me is that Government ministers are shaking down contractors for significant sums of money to fund this programme.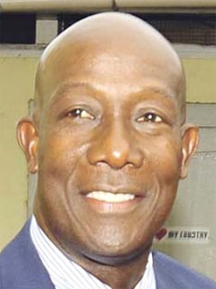 "Is it acceptable for the Prime Minister of Trinidad and Tobago to be engaging in this programme, albeit in the name of Christmas, but (when) the country does not know where the money is coming from to fund this programme." He said until the Opposition was informed of the sponsors of the initiative, it would be unable to support it. He said the shakedown of contractors to fund the initiative was totally unacceptable to the People's National Movement (PNM). "Until the ruling party can tell us, in a transparent manner, where the funding is coming from for this programme, we have serious question marks on it," Rowley told reporters. He said until the Government explained all about the programme's funding "we have a problem here of transparency and it could result in corruption."
Rowley said he was sure the project was not being funded by convicted killer Dole Chadee because he was executed by the State in 1999. "But there are young Dole Chadees about this country and we have to be very concerned that the Prime Minister and the ministers don't get involved in something that is quite nefarious," Rowley added.
He said he was concerned about the shakedown claim by many contractors across the country. He said the matter must be addressed if T&T's rankings on the Corruption Perception Index (CPI) were to improve. Thousands of children have received gifts from the Prime Minister at various locations across the country, including San Fernando, Penal, Port-of-Spain, Arima and Tobago and the Diplomatic Centre, St Ann's.
Around the Web