(Jamaica Observer) All Island Preliminary Results. 6586 Of 6629 Boxes Counted. The Pnp Now Has 36 Declared Constituencies To The Jlp's 21.
Clarendon Central: Lester Michael Henry – Jlp (7111) Richard Watson – Pnp (4133)
Clarendon North Central: Pearnel P. Charles – Jlp (6595) Collington R. Campbell – Pnp (4801)
Clarendon North Western: Richard Edward Azan – Pnp (8161) Michael Stern – Jlp (6613)
Clarendon Northern: Horace Washington Dalley – Pnp (7645) Laurence George Broderick – Jlp (5963) Eton Cedric Williams – Ndm (20)
Clarendon South Eastern: Rudyard Conrad Spencer – Jlp (8770) Dereck Lloyd Lambert – Pnp (8684)
Clarendon South Western: Noel George Arscott – Pnp (7702) Joel Lawrence Williams – Jlp (5529)
Hanover Eastern: Donald K. (D.K) Duncan – Pnp (6603) Paula Kerr-Jarrett – Jlp (6221)
Hanover Western: Ian Dave Hayles – Pnp (8569) Donovan E. A. Hamilton – Jlp (6909)
Kingston Central: Ronald George Thwaites – Pnp (5818) Rosalie M. Hamilton – Jlp (3795) Michael A. Lorne – Mgppp (58)
Kingston East And Port Royal: Phillip Feanny Paulwell – Pnp (8051) Peter Curtis A. Sangster – Jlp (1529)
Kingston Western: Desmond Anthony A. Mckenzie – Jlp (8942) Earl A. Dawkins – Pnp (1825) Arlington Anthony Seaton – Mgppp (32)
Manchester Central: Peter Murcott Bunting – Pnp (10481) Danville A. L. Walker – Jlp (10042)
Manchester North Eastern: Audley Fitzalbert Shaw – Jlp (8326) Valenton Orlando Wint – Pnp (7832)
Manchester North Western: Mickael A. Phillips – Pnp (8462) Timothy Augustine Scarlett – Jlp (6308)
Manchester Southern: Michael Peart – Pnp (9547) Collin A. Virgo – Jlp (7040)
Portland Eastern: Lynvale George Bloomfield – Pnp (9127) Patrick Montclair Lee – Jlp (8164)
Portland Western: Daryl W. Vaz – Jlp (7350) Rohan George Quest – Pnp (6579) Peter Anthony Flemmings – Ndm (18)
St. Andrew East Central: Peter D. Phillips – Pnp (6867) Beverley Ann Marie Prince – Jlp (4032) Allan Lloyd Martin – Mgppp (42)
Comments

CARACAS, (Reuters) – Venezuelan authorities yesterday arrested five members of a "terrorist cell" linked to self-proclaimed rogue Venezuelan helicopter pilot Oscar Perez, and killed several other militants during a shootout in a poor area outside Caracas.
BRUSSELS, (Reuters) – European Union officials have proposed removing eight jurisdictions from the blacklist of tax havens the bloc adopted in December, in what critics may see as a blow to its campaign against tax avoidance.
RIO DE JANEIRO (Reuters) – A Brazilian court yesterday ordered the world's largest iron ore miner Vale SA to repair environmental damages its operations caused in land belonging to a community of descendants of escaped slaves in northern Brazil.
(Trinidad Express) Three men were killed in Manzanilla, and Fyzabad and Arima on Saturday night.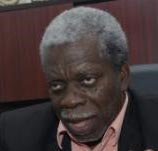 (Jamaica Gleaner) When president of the National Parent-Teacher Association of Jamaica Everton Hannam chose Fly Jamaica Airline to take him to Guyana for his annual end-of-year vacation, he could not guess the ordeal he would face.